Citroën C4 Cactus Fault Codes
---
You can find common Citroën C4 Cactus fault codes on this page that when clicked take you to a detailed description.
You can also type in the fault code you are getting below to find a more detailed description.
Search Citroën C4 Cactus Codes
Do you know the fault code already? Enter it in the box below and hit "Search Codes".
Citroën C4 Cactus Recalls
When a car manufacturer detects a problem with a model they put out a recall notice and more often than not offer to fix the problem free of charge.
You can check to see if your Citroën C4 Cactus has any recall notices on our sister site AutoRecalls.co, sorted by model year.
View Citroën C4 Cactus Recalls »
Common C4 Cactus Fault Codes
These are the most common C4 Cactus fault codes that people are searching for.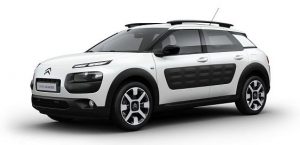 About the C4 Cactus
The C4 Cactus is a subcompact crossover sport utility vehicle built and sold by the French car manufacturer Citroen.
Launching in April 2014, the C4 Cactus lasted just 3 short years with the facelifted version selling for just a few months before the coronavirus halted proceedings.
Based upon the PSA PF1 Platform, the C4 Cactus shares its underpinnings with a number of popular vehicles such as the Opel Crossland, Opel Crossland X, Citroen C3 III, Citroen C-Elysee, Peugeot 301, Peugeot 2008, the Peugeot 208, Citroen DS3, Citroen C3 Picasso, Peugeot 207 and 2007, Citroen C2 and the wildly popular Peugeot 206.
Using the Spanish factory for production (in Villaverde, Madrid), Citroen sold this vehicle exclusively as a 5-door SUV with two engine options; a 1.2-liter petrol and a 1.6-liter diesel.
Performing as best in its class for pedestrian safety, the C4 Cactus received overall good scores and was the first p[passenger car to have the front airbags installed into the roof lining.
The C4 Cactus allows for the driver to set the driving performance to accommodate snow, mud or ice; a feature that was advertised in conjunction with their Rip Curl model.
Winning a number of awards, not least Top Gears 'Hatchback of the Year' in 2014, Citroen discontinued the model after just one main generation.
The C4 Cactus can produce a number of fault codes, some of which are: