On this page you can find the meaning of the fault code you may be seeing coming from your Toyota.
Either choose your model from below or scroll down even further to search and see popular fault codes across all Toyotas.
Toyota Models
(click your model)
Search Toyota Codes
Do you know the fault code already? Enter it in the box below and hit "Search Codes".
Popular Toyota Fault Codes
These are the most popular Toyota fault codes that people are searching for.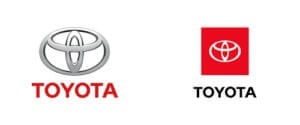 Toyota is the largest automaker in the world, producing more cars than any other single company.
They also operate a luxury brand called Lexus that market various versions of its own lines but with premium features and increased levels of luxury.
You may find that the common Toyota fault codes are also found more often in Lexus models too.
Common fault codes on Toyotas include the P0441 which signifies that the system that manages the evaporation of gasoline and its vapors from the fuel tank. Several sensors and valves work to manage this and by seeing the P0441 error your Toyota believes that this system is not working as intended. The fault code could be triggered by a leak, a blocked hose or even a faulty sensor.
Another common fault code on Toyotas is the P0171 – a common fault among many different makes of cars. This error pops up when the engine detects that the fuel/air mixture is too lean (basically too much air is in the mix). The reason this is a problem is that the mix may not fully ignite when in the cylinder and leading to a lack of power and rough running. This could be caused by the flow of air, fuel or both being interrupted by faulty parts, blocked hoses or even sensors elsewhere not doing their jobs.
If you find the C1241 error code appearing on your Toyota when being diagnosed it could be a sign that there is a problem with your battery. More specifically the C1241 error is indicative of a problem with the voltage at the positive side of the battery rather than overall. Checking with a trained technician can tell you if the battery needs replacing through a simple test.