You can find common Toyota Mirai fault codes on this page that when clicked take you to a detailed description.
You can also type in the fault code you are getting below to find a more detailed description.
Search Toyota Mirai Codes
Do you know the fault code already? Enter it in the box below and hit "Search Codes".
Toyota Mirai Recalls
When a car manufacturer detects a problem with a model they put out a recall notice and more often than not offer to fix the problem free of charge.
You can check to see if your Toyota Mirai has any recall notices on our sister site AutoRecalls.co, sorted by model year.
View Toyota Mirai Recalls »
Common Mirai Fault Codes
These are the most common Mirai fault codes that people are searching for.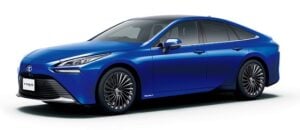 About the Mirai
The Mirai is a Japanese-built vehicle created by Toyota since the December of 2014.
Still in production today, the Mirai is a mid-sized hydrogen fuel cell vehicle and is one of the first mass-produced cars of its type.
First shown at the November 2014 Los Angeles Motor Show, the Mirai has currently sold in excess of 18,000 units in countries like Japan and Northern America.
With an impressive range of 502km on one full tank, the Mirai enjoys a fuel economy rating of 66 mpg and in August 2021 and set the world record.
First generations used the Toyota Fuel l Cell system, which introduced hybrid technology to fuel cell technology including components such as high-pressure hydrogen tanks, FC Boost converter and a fuel cell stack.
Capable of accelerating up to 60mph within 9 seconds, there is characteristically only one transmission.
Following intensive crash testing, the Mirai is designed specifically to protect frontal, side and rear impact points; this is equally important so as to protect the fuel cell stack and high-pressure tanks.
The second generation sold onwards from 2020, having been unveiled in October 2019 and strived to achieve a 30 percent increase in driving range. With the Advanced Drive, the Mirai had new features like advanced parking assist, change lane alert, lane centering system and a function which allows for maintaining a safe distance from the vehicle in front.
Some common fault codes found with the Mirai are: