Toyota Aygo X Fault Codes
---
You can find common Toyota Aygo X fault codes on this page that when clicked take you to a detailed description.
You can also type in the fault code you are getting below to find a more detailed description.
Search Toyota Aygo X Codes
Do you know the fault code already? Enter it in the box below and hit "Search Codes".
Toyota Aygo X Recalls
When a car manufacturer detects a problem with a model they put out a recall notice and more often than not offer to fix the problem free of charge.
You can check to see if your Toyota Aygo X has any recall notices on our sister site AutoRecalls.co, sorted by model year.
View Toyota Aygo X Recalls »
Common Aygo X Fault Codes
These are the most common Aygo X fault codes that people are searching for.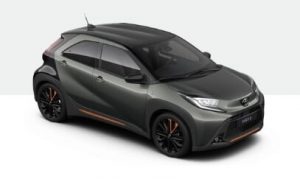 About the Aygo X
The Aygo X was launched in 2022 as the replacement for the Aygo. It is currently in its first generation and is marketed as a crossover city car
It is among the first models to occupy this new segment of the market with other competing models including the Fiat Panda Cross and Hyundai Casper.
Despite Toyota having a reputation for reliability, Aygo X owners have reported a few fairly common fault codes. The most common of these is P0420, which represents an issue with the catalytic converter.
Older models are more prone to suffering from exhaust leaks, which can cause this, but the most likely cause is a failing or damaged catalytic converter.
Another fairly common code is P0171, which is a broad-scope code that indicates that the engine is running too lean. The problem with this is that anything that disrupts the ideal air-fuel mixture can be the cause.
Owners have found some success in checking the MAF sensor for defects or dirt. Another fairly common culprit is a faulty oxygen sensor.
Some owners have also reported fault code P0011, which is a serious code. This is logged when the intake camshaft is over-advanced and the PCM cannot fix it. Aygo owners need to have this type of code fixed immediately to prevent serious damage from occurring.
With any luck, the main cause for this is a faulty camshaft position sensor. Other potential causes include a faulty oil control solenoid, as well as running the engine with old or dirty oil.