On this page you can find the meaning of the fault code you may be seeing coming from your Ford.
Either choose your model from below or scroll down even further to search and see popular fault codes across all Fords.
Ford Models
(click your model)
Search Ford Codes
Do you know the fault code already? Enter it in the box below and hit "Search Codes".
Popular Ford Fault Codes
These are the most popular Ford fault codes that people are searching for.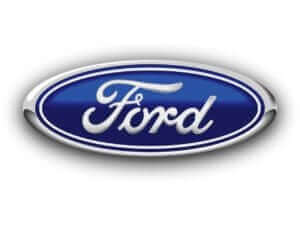 Ford is probably the biggest name in motoring in the world.
The American company is responsible for making the automobile an affordable item for the majority thanks to its founder Henry Ford's innovations in mass production.
In recent years the company controls the Lincoln brand which it uses for luxury models but did also operate the mid-price Mercury brand for many years until 2011.
A common fault code you may experience in your Ford is the P0171 – it is displayed to tell you that the fuel/air mix hitting the engine is too lean. A lean fuel/air ratio suggests that the amount of air present is too high and so the fuel is also too low. This can lead to a misfire in the engine due to the lack of fuel in the cylinder and resulting in a rough-sounding engine with a drop in power.
Another similar Ford fault code is the P0108, caused by a bad pressure reading in the manifold. This is usually caused by a faulty sensor but if the sensor isn't faulty then it could be down to the pressure actually being lower than expected. This P0108 low-pressure reading could then be caused by a faulty fuel pump or damaged piping.
Moving further along the route that the fuel/air mix travels you may find the P0302 code firing in your Ford also. This P0302 code is a sign that the 2nd cylinder in the engine is misfiring. This is a much better situation than having a random misfire as you know where to look for the problem – the 2nd cylinder. Checking the spark plug on the 2nd cylinder as well as the connections around it would be the quickest and smartest way to go about fixing it.