You can find common Ford Edge fault codes on this page that when clicked take you to a detailed description.
You can also type in the fault code you are getting below to find a more detailed description.
Search Ford Edge Codes
Do you know the fault code already? Enter it in the box below and hit "Search Codes".
Ford Edge Recalls
When a car manufacturer detects a problem with a model they put out a recall notice and more often than not offer to fix the problem free of charge.
You can check to see if your Ford Edge has any recall notices on our sister site AutoRecalls.co, sorted by model year.
View Ford Edge Recalls »
Common Edge Fault Codes
These are the most common Edge fault codes that people are searching for.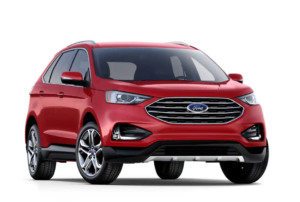 About the Edge
One of the smallest SUVs offered by Ford, the Edge first made its debut in 2007. Since its release, there have only been two generations to be released. Unfortunately for fans of the model, Ford announced its discontinuation in 2023.
It was named after a trim package from the Ford Ranger. The model has also been sold under the Lincoln badge as the MKX, now the Nautilus.
The Edge faces a number of competitors in the packed crossover class. The most notable of these include the Audi Q5, Volkswagen Tiguan, and Hyundai Palisade.
The model has been prone to EVAP system issues. In fact, the three most common codes that owners have searched all relate to this system. The first of these is P0455, which indicates a significant leak in the EVAP system.
In addition to this, fault code P0456 indicates a small leak in the system.
The former code is likely the result of a faulty component, most likely a purge valve. Because the latter code indicates a small leak, it is very likely that it is the result of a loose fuel cap. However, a faulty component can also cause a small leak.
Another fairly common issue that Edge owners have had to face is P1450. This manufacturer-specific code indicates that the vehicle is unable to bleed up the fuel tank vacuum.
This code is typically the result of a faulty purge valve. Owners have found that replacing this component in the EVAP system is the best solution for this problem.
It is possible that both the generic and manufacturer-specific fault codes be logged together, which can help pinpoint the cause of the problem.