Ford Mustang Mach-E Fault Codes
---
You can find common Ford Mustang Mach-E fault codes on this page that when clicked take you to a detailed description.
You can also type in the fault code you are getting below to find a more detailed description.
Search Ford Mustang Mach-E Codes
Do you know the fault code already? Enter it in the box below and hit "Search Codes".
Ford Mustang Mach-E Recalls
When a car manufacturer detects a problem with a model they put out a recall notice and more often than not offer to fix the problem free of charge.
You can check to see if your Ford Mustang Mach-E has any recall notices on our sister site AutoRecalls.co, sorted by model year.
View Ford Mustang Mach-E Recalls »
Common Mustang Mach-E Fault Codes
These are the most common Mustang Mach-E fault codes that people are searching for.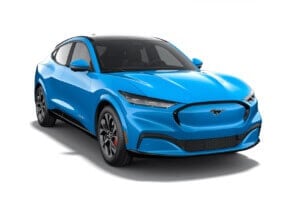 About the Mustang Mach-E
Created by Ford, the Mustang Mach-e is a battery electric compact crossover that started sales in December 2020.
Manufactured at the Cuautitlan Assembly plant in Mexico for the American market, the Mustang Mach-e has 5 doors and is built upon the Ford GE1 platform (a heavily modified version of the C2 platform).
A number of trim levels are available, each with different options, these were Select, California Route 1 Edition, Premium and GT.
The latter was predominantly geared towards performance. Instead of normal door handles, the Mustang Mach-e has buttons that can pop open the doors.
As a new car, there are a plethora of modern features to be found in this car, for example, a built-in soundbar, a large touchscreen infotainment system and continual wireless updates. Most of the car can be controlled by using the touchscreen.
Although carrying a prestigious name, the Mustang Mach-e has quite a few competitors on the market such as, the Hyundai Kona Electric, Kia EV6, Hyundai IONIQ 5, Kia Niro EV, Audi Q4 e-tron, Jaguar I-Pace, Chevrolet Bolt EV, Volvo XC40 Recharge, Tesla Model Y, Mazda MX-30, Volkswagen ID.4 and the Volvo C40 Recharge.