You can find common Ford Focus fault codes on this page that when clicked take you to a detailed description.
You can also type in the fault code you are getting below to find a more detailed description.
Search Ford Focus Codes
Do you know the fault code already? Enter it in the box below and hit "Search Codes".
Ford Focus Recalls
When a car manufacturer detects a problem with a model they put out a recall notice and more often than not offer to fix the problem free of charge.
You can check to see if your Ford Focus has any recall notices on our sister site AutoRecalls.co, sorted by model year.
View Ford Focus Recalls »
Common Focus Fault Codes
These are the most common Focus fault codes that people are searching for.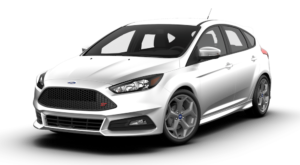 About the Focus
The Focus first entered the market in 1998 as a compact family car. The primary intention of the model was for Ford to release a compact car that is sold under the same badge worldwide, which it succeeded in doing so.
Since its release, there has been a total of four generations to hit the market. The fourth and latest of these was unveiled in 2019.
The Focus has become somewhat of an icon in the hatchback class. This has meant it goes up against other big names in the class like the Honda Civic, Opel Astra, and of course, the VW Golf.
One of the most common issues that Focus owners have reported is one that a lot of cars that have been on the market for a while suffer from. P0420 indicates that there is an issue with the catalytic converter's performance.
For a lot of older vehicles, this can be a result of wear and tear causing the converter to fail. In some cases, this can also be the result of faulty oxygen sensors in the exhaust system.
Another code that owners have reported is P0171, which has affected a number of Ford engines over the years. This code indicates that the engine is running too lean.
One of the first steps in fixing this problem is checking the MAF sensor for any issues. Vacuum leaks are another notorious cause of this code.
Fault code P0456 is another common code that has been reported. This code is logged when a small leak in the EVAP system is detected.
With some luck, this code is a sign that the gas cap is simply not fastened correctly. However, it is possible that there is an actual leak coming from a faulty component somewhere.