Opel/Vauxhall Astra Fault Codes
---
You can find common Opel/Vauxhall Astra fault codes on this page that when clicked take you to a detailed description.
You can also type in the fault code you are getting below to find a more detailed description.
Search Opel/Vauxhall Astra Codes
Do you know the fault code already? Enter it in the box below and hit "Search Codes".
Opel/Vauxhall Astra Recalls
When a car manufacturer detects a problem with a model they put out a recall notice and more often than not offer to fix the problem free of charge.
You can check to see if your Opel/Vauxhall Astra has any recall notices on our sister site AutoRecalls.co, sorted by model year.
View Opel/Vauxhall Astra Recalls »
Common Astra Fault Codes
These are the most common Astra fault codes that people are searching for.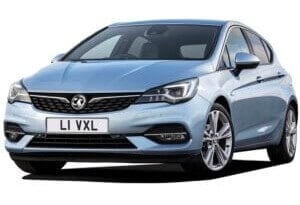 About the Astra
The Astra first made its debut in 1991 as the successor to the Opel Kadett. Since then, there have been six generations to be released under the updated nameplate.
Because of the model's heritage, the first generation was given the designation of Astra F. Each generation ascends alphabetically. This means the latest generation, which was released in 2021, is the Astra L.
It is no secret that the small family car class is massively competitive. This has put the Astra up against some fierce competition like the Ford Focus, Peugeot 308, and Volkswagen Golf.
Unfortunately for owners, some of the most common fault codes for the model can be serious ones. The most common of these is P0171, which represents that the engine is running too lean.
This code can make it quite hard to pinpoint the cause as anything that can disrupt the ideal air-fuel mixture upstream of the engine can be the cause. Owners have reported that either a faulty MAF or O2 sensor can be some of the main causes of the issue.
The next most common issue for the Astra is fault code P0299, which represents an underboost condition from the turbocharger system. Of course, this means only Astra models like the OPC and diesel variants that are fitted with turbos can suffer from this code.
The most obvious cause of this issue would be a faulty component in the turbocharger system. This can include the turbocharger itself, as well as other parts like the wastegate actuator. Owners have reported that a faulty MAP sensor can also be a common cause.
Some Opel models like the Astra can also be prone to thermostat issues like P0597. A defective thermostat heater is one of the most commonly reported causes for various Astra models.