Opel/Vauxhall Adam/Alex Fault Codes
---
You can find common Opel/Vauxhall Adam/Alex fault codes on this page that when clicked take you to a detailed description.
You can also type in the fault code you are getting below to find a more detailed description.
Search Opel/Vauxhall Adam/Alex Codes
Do you know the fault code already? Enter it in the box below and hit "Search Codes".
Opel/Vauxhall Adam/Alex Recalls
When a car manufacturer detects a problem with a model they put out a recall notice and more often than not offer to fix the problem free of charge.
You can check to see if your Opel/Vauxhall Adam/Alex has any recall notices on our sister site AutoRecalls.co, sorted by model year.
View Opel/Vauxhall Adam/Alex Recalls »
Common Adam/Alex Fault Codes
These are the most common Adam/Alex fault codes that people are searching for.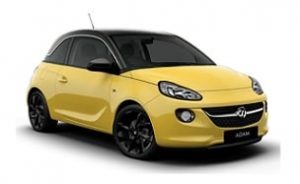 About the Adam/Alex
Known also as the Vauxhall Alex, the Adam was first shown at the 2012 Paris Motor Show.
Sales began a year later in 2013 and were available in three trim levels, Jam Glam and Slam alongside the off-road styled Rocks, Rocks Air and S.
Most Adams were fitted with a manual gearbox (although a 5-speed automated Easytronic automated manual was sold) and were built primarily for family journeys.
Considered a more stylish alternative to the Vauxhall Corsa, the Adam offered a huge variety of colors and features to allow the buyer to almost custom order their vehicles (Vauxhall has claimed that there are over 60,000 combinations).
Assembly exclusively took place at the Eisenach plant in Germany along with the afore mention Corsa.
Seating only four people, reviews claimed that the rear seats were a squeeze, even for smaller children and the Adam really only should be used as a second family car for school runs and the like.
Winning the coveted Red Dot Car Design award, the Adam wen ton to win the best city car in Auto Zeitung magazine.
In 2019, Vauxhall discontinued the Adam with no replacement brought forward as Vauxhall moved the focus onto the more popular SUVs.
Customers looking for a car similar to the Adam now can be directed towards the Fiat 500, Volkswagen Up!, Toyota Aygo X, Hyundai i10, Kia Picanto, Suzuki Ignis, Fiat Panda and the Citroen C1.
Some of the following fault codes are synonymous with the Opel Adam: