You can find common Suzuki Ignis fault codes on this page that when clicked take you to a detailed description.
You can also type in the fault code you are getting below to find a more detailed description.
Search Suzuki Ignis Codes
Do you know the fault code already? Enter it in the box below and hit "Search Codes".
Suzuki Ignis Recalls
When a car manufacturer detects a problem with a model they put out a recall notice and more often than not offer to fix the problem free of charge.
You can check to see if your Suzuki Ignis has any recall notices on our sister site AutoRecalls.co, sorted by model year.
View Suzuki Ignis Recalls »
Common Ignis Fault Codes
These are the most common Ignis fault codes that people are searching for.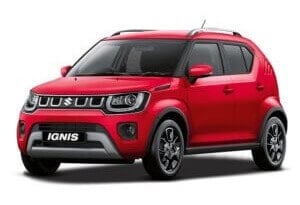 About the Ignis
Produced by Suzuki, the Ignis replaced the Cultus in the year 2000 initially as a subcompact car; and later the style was changed to a crossover city car.
General Motors and Suzuki were enjoying a partnership at the time, and the Ignis was a direct result of both companies input.
First generations were sold as either a three-door or a five-door model and benefitted from a new range of inline-four petrol engines.
Available as either a 5-speed manual or a 4-speed automatic, some of the Ignis models were sold strictly in Japan due to incompatibility with the European emissions testing.
A sport version was created to compete in the World Rally Championship 2002; calling this model simply the 'Ignis Sport'. This car used a 1.5-liter engine with an increased power of 114 bhp.
Once detuned, the Ignis Sport became a European production car without roof bars.
From 2016, Suzuki released the second generation which looked quite different. The roof bars remained and the overall aesthetic appeared more rugged. This time, customers could purchase this vehicle either as a petrol engine or as a mild hybrid with a lithium-ion battery which is located under the front passenger seat.
This category of cars is extremely popular all over the world, so one would expect quite a few alternatives on the market; for customers who wanted to look elsewhere, other options were available such as the Fiat 500X, Ford EcoSport, Holden Trax, Honda HR-V, Hyundai Kona, Mazda CX-3, the Mg Zs or the Nissan Juke.