Chevrolet Trax Fault Codes
---
You can find common Chevrolet Trax fault codes on this page that when clicked take you to a detailed description.
You can also type in the fault code you are getting below to find a more detailed description.
Search Chevrolet Trax Codes
Do you know the fault code already? Enter it in the box below and hit "Search Codes".
Chevrolet Trax Recalls
When a car manufacturer detects a problem with a model they put out a recall notice and more often than not offer to fix the problem free of charge.
You can check to see if your Chevrolet Trax has any recall notices on our sister site AutoRecalls.co, sorted by model year.
View Chevrolet Trax Recalls »
Common Trax Fault Codes
These are the most common Trax fault codes that people are searching for.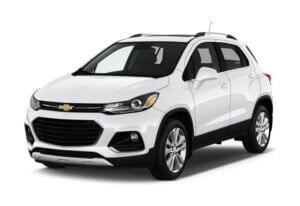 About the Trax
One of Chevrolet's first crossover SUV offerings, the Trax, originally hit the markets in 2013. There have only been two generations released since then, with the second making its debut in China in 2022.
Like a number of Chevrolet models, it has been sold under various badges. The most notable of these include the Holden Trax in Australia and the Chevrolet Tracker in China and South America.
Another important distinction is to not confuse the model with the Chevrolet Triax, which was a concept SUV unveiled in 2000.
Competitors typically include the Mazda CX-50, Kia Soul, and Hyundai Venue. However, there are a number of others in the class.
One of the most commonly reported issues for the Trax is fault code P0171. This code indicates that the engine is running too lean.
This can be a tough code to fix because pinpointing the cause is notoriously difficult. Unfortunately, owners have not reported a common cause for the Trax, meaning it can be almost anything that affects the air-fuel mixture.
The next most common issue is one that affects only models fitted with a turbocharger. Fault code P0299 indicates that there is too little boost coming from the turbo.
This can be caused by a leak in the turbocharger system or a faulty wastegate valve. However, owners have typically found that the solution requires replacing the turbocharger itself.
Fault code P0088 is another code that is fairly common for the model. This indicates that the pressure reading from the fuel rail is too high.
One of the most common causes of this code is a restriction in the fuel system that is artificially increasing the fuel pressure. In addition to this, a faulty fuel pump can lead to excessive fuel pressure.