Chevrolet Onix Fault Codes
---
You can find common Chevrolet Onix fault codes on this page that when clicked take you to a detailed description.
You can also type in the fault code you are getting below to find a more detailed description.
Search Chevrolet Onix Codes
Do you know the fault code already? Enter it in the box below and hit "Search Codes".
Chevrolet Onix Recalls
When a car manufacturer detects a problem with a model they put out a recall notice and more often than not offer to fix the problem free of charge.
You can check to see if your Chevrolet Onix has any recall notices on our sister site AutoRecalls.co, sorted by model year.
View Chevrolet Onix Recalls »
Common Onix Fault Codes
These are the most common Onix fault codes that people are searching for.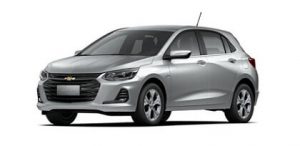 About the Onix
The Onix first made its debut in the subcompact car class in Brazil in 2012. The second and only other generation made its debut in China in 2019.
There are slight differences between the two models sold in the various markets. For instance, there is a longer version sold in both Brazil and Colombia called the Onix Plus.
The model was the best-selling car in Latin America in 2018 with close to 250,000 units sold.
Competition for the Onix has typically come from the Kia Rio, Nissan Versa, and Peugeot 208.
One of the most common issues that the model has faced is P0300, which indicates that multiple random misfires have been detected.
This code can be a sign of a wide range of additional issues. Owners should always address any other fault code that is logged that may relate to the air, fuel, and ignition systems as these can cause misfires to occur. It is also a good idea to address codes that indicate a specific cylinder misfire.
Another common issue is P0299. Thankfully, this code only affects models fitted with a turbocharger. This code indicates that too little pressure is being detected from the turbo.
In most cases, this code will require the turbocharger to be replaced. However, owners have also reported that there may be leaks present in the turbocharger system that can be fixed.
Fault code P0420 is another code that is fairly common to the model. This code is logged when the catalytic converter is not operating properly.
Older models may require a new catalytic converter simply as a result of wear over time. It has also been reported that exhaust leaks upstream of the converter can cause this issue. In some cases, replacing the oxygen sensors can fix this issue.