Chevrolet Express Fault Codes
---
You can find common Chevrolet Express fault codes on this page that when clicked take you to a detailed description.
You can also type in the fault code you are getting below to find a more detailed description.
Search Chevrolet Express Codes
Do you know the fault code already? Enter it in the box below and hit "Search Codes".
Chevrolet Express Recalls
When a car manufacturer detects a problem with a model they put out a recall notice and more often than not offer to fix the problem free of charge.
You can check to see if your Chevrolet Express has any recall notices on our sister site AutoRecalls.co, sorted by model year.
View Chevrolet Express Recalls »
Common Express Fault Codes
These are the most common Express fault codes that people are searching for.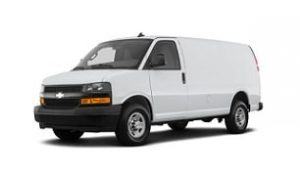 About the Express
The Express series of full-size vans were first released by General Motors in 1995. Since then, there have been only two generations to hit the markets. The latest of these was released in 2003.
The model has consisted of various layouts over the years, but these have been streamlined to only the cargo and passenger variants.
Like most General Motor models, there is also the rebadged GMC Savana, which shares a huge number of mechanical components with the Express. Both of these models compete with each other in the North American market, as well as the hugely popular Ford Transit.
One of the most common issues that owners have reported is P0455, which indicates that there is a leak in the EVAP system.
A faulty or loose gas cap is often the cause of this very common problem. In some cases, a diagnostic tool may be required to find the leaking component in the system.
Another common issue is fault code P0700, which indicates a transmission control malfunction. This can be a result of a sensor problem, but it is notorious for being difficult for pinpointing the cause.
Because all Express models are fitted with either a V6 or V8 engine, fault code P0174 is an issue that owners have commonly encountered.
This code indicates that the second bank of the engine is running lean. This can be another problematic code to solve.
Some owners have noted that the code is logged when running the engine on the incorrect fuel. Other common issues can include faulty fuel pumps and fuel injectors, as well as clogged fuel filters.