You can find common Citroën C1 fault codes on this page that when clicked take you to a detailed description.
You can also type in the fault code you are getting below to find a more detailed description.
Search Citroën C1 Codes
Do you know the fault code already? Enter it in the box below and hit "Search Codes".
Citroën C1 Recalls
When a car manufacturer detects a problem with a model they put out a recall notice and more often than not offer to fix the problem free of charge.
You can check to see if your Citroën C1 has any recall notices on our sister site AutoRecalls.co, sorted by model year.
View Citroën C1 Recalls »
Common C1 Fault Codes
These are the most common C1 fault codes that people are searching for.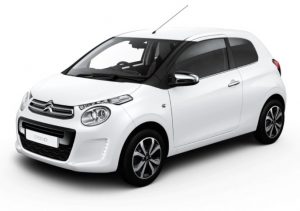 About the C1
Rebadges as both the Peugeot 108 or Toyota Aygo, the C1 is a French car manufactured by Citroen.
Originally sold as either a 3-door hatchback or as a 5-door, the C1 had an impressive fuel economy of 68.9 mpg in its first generation.
Designed by Donato Coco, a car designer also known for the Mercedes W168, Ferrari 458, Ferrari F430, Ferrari 599XX, Ferrari California, Citroen Xsara Picasso, Citroen C3, Citroen C2, Citroen C4 and the Ocqueteau RC10; the C1 offered a trim range that included the Vibe, Rhythm, Code, Cool and the Airplay.
The latter had iPod connectivity, and iPod cradle and a free iPod Nano and colorful swirling patterns. 2009 saw a facelift that coincided with the Toyota Aygo and Peugeot 107, updates included a new front bumper, front grille and new colors.
Second-generation models were launched in 2014 and were shown at the Geneva Motor Show. A new model called the Airscape joined the line up which featured a folding canvas roof much like the classic Renault Twingo and the Fiat 500 convertible.
Following Euro NCAP safety tests, the C1 received four out of a potential five stars overall, with 80% awarded to adult safety and the same again for children.
Owners of the C1 commonly see the same faults occur with this vehicle after a certain age, these error codes can include: