You can find common Peugeot 107 fault codes on this page that when clicked take you to a detailed description.
You can also type in the fault code you are getting below to find a more detailed description.
Search Peugeot 107 Codes
Do you know the fault code already? Enter it in the box below and hit "Search Codes".
Peugeot 107 Recalls
When a car manufacturer detects a problem with a model they put out a recall notice and more often than not offer to fix the problem free of charge.
You can check to see if your Peugeot 107 has any recall notices on our sister site AutoRecalls.co, sorted by model year.
View Peugeot 107 Recalls »
Common 107 Fault Codes
These are the most common 107 fault codes that people are searching for.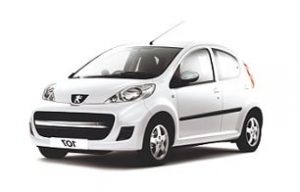 About the 107
The 107 was first released as the successor to the 106 in 2005. It then stayed on the market until 2015 when it was succeeded by the 108.
As with all Peugeot models, it falls under its own series. Of course, this is a part of the 100 series, which first made its debut in 1972 with the 104. The '7' in the name indicates that this is actually the third generation for the series.
The 107 faced competition from a number of other small city cars during its time on the market. The most notable of these include the Fiat Panda, Toyota Aygo, and eventually the Volkswagen Up!
One of the most common issues the 107 faced is P0011, which is a timing problem for the intake camshaft. This code should never be ignored as it is very serious.
Owners have reported that a faulty solenoid valve can be the main cause of this issue. However, there can be a number of issues like contaminated oil that can be the cause.
Another common issue is shown by fault code P0420, which indicates that the catalytic converter is not functioning properly.
With older models like the 107, it is always possible that there are exhaust leaks upstream of the catalytic converter. This can be a result of wear and tear over time. Owners have also reported that a faulty converter is fairly common.
Fault code P0880 is another issue that is fairly common for the model. This code indicates that the traction control module (TCM) is not sending signals to the onboard computer correctly.
Unfortunately, this can be a fairly difficult code to fix as it deals heavily with the car's software.