You can find common Citroën C2 fault codes on this page that when clicked take you to a detailed description.
You can also type in the fault code you are getting below to find a more detailed description.
Search Citroën C2 Codes
Do you know the fault code already? Enter it in the box below and hit "Search Codes".
Citroën C2 Recalls
When a car manufacturer detects a problem with a model they put out a recall notice and more often than not offer to fix the problem free of charge.
You can check to see if your Citroën C2 has any recall notices on our sister site AutoRecalls.co, sorted by model year.
View Citroën C2 Recalls »
Common C2 Fault Codes
These are the most common C2 fault codes that people are searching for.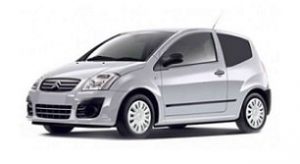 About the C2
Built as a supermini, the C2 was produced by the French car company Citroen from 2003.
When production started, the C2 replaced the Saxo and had big shoes to fill as the Saxo was one of the most popular small cars at the time.
Sister to the Citroen C1 and the C3, the C2 suffered in comparison; where there wasn't anything inherently wrong with the vehicle, there was not enough advertising put into the project and so it remained relatively unknown.
Despite this fact, the C2 won 'Best European Hatchback of 2003,' which makes it even more bizarre that it was one of the least popular cars in Citroen's lineup.
There were several models to choose from, the LX for example was the most basic with black plastic bumpers and no fog lamps. Other versions included the Furio, VTR and VTS (all sports models) and 2,500 limited-edition GT trims were sold with certificates of authenticity, these had a special sports body kit and alloy wheels.
When put through the Euro NCAP safety tests, the C2 received four stars out of a potential five for adult safety, and three for children.
2007 saw a facelift that featured a larger bumper and a changed front grille.
Where the C2 had its benefits (fast take off, good handling and a quality interior) people made disparaging comments about the styling, which was unfortunate because there were a number of competitors to choose from such as the Renault Twingo, Suzuki Ignis, Ford Fiesta Zetec, Skoda Fabia, Volkswagen Polo or Volkswagen Golf.
Error codes that can display for this car are: