Toyota 4Runner Fault Codes
---
You can find common Toyota 4Runner fault codes on this page that when clicked take you to a detailed description.
You can also type in the fault code you are getting below to find a more detailed description.
Search Toyota 4Runner Codes
Do you know the fault code already? Enter it in the box below and hit "Search Codes".
Toyota 4Runner Recalls
When a car manufacturer detects a problem with a model they put out a recall notice and more often than not offer to fix the problem free of charge.
You can check to see if your Toyota 4Runner has any recall notices on our sister site AutoRecalls.co, sorted by model year.
View Toyota 4Runner Recalls »
Common 4Runner Fault Codes
These are the most common 4Runner fault codes that people are searching for.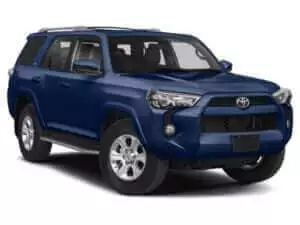 About the 4Runner
The 4Runner first hit the American market in 1984. Since then, there have been five generations to be released. The latest of these made its debut in 2009. While originally being sold only in the US, it is now sold across most of both North and South America.
The model, like several other Toyota offerings, was given its name by Saatchi & Saatchi advertising company. It comes as a play on the word 'forerunner' and emotes the SUV's 4×4 drivetrain.
The 4Runner has faced competition from a number of American offerings. The most notable of these include the Ford Bronco, Jeep Grand Cherokee, and its sibling, the Toyota Highlander.
It was placed fifth in a 2019 study for long-lasting vehicles in the US, owing to its great reliability. However, all cars have their own faults. Thankfully, the 4Runner's are relatively mild in terms of severity.
The most commonly searched fault codes along with the model are P0441 and P0442. These are both related to the evaporative emission control (EVAP) system. The first is a purge flow problem and the second represents a leak being detected.
These are typically caused by faulty components in the EVAP system. The most likely culprit is a defective purge control valve, particularly for P0441. Another fairly common cause for both of these codes is simply a loose or defective fuel cap.
Neither of these codes presents a huge risk to the driveability of the vehicle or the health of its parts, but should still be checked out when possible.
A more serious issue that 4Runner owners have reported is fault code P0420, which represents a malfunction with the catalytic converter. This can lead to some fairly expensive replacements if not tackled quickly.
In some cases, this can be caused by exhaust leaks, but a faulty converter is one of the most likely causes.