Toyota Tundra Fault Codes
---
You can find common Toyota Tundra fault codes on this page that when clicked take you to a detailed description.
You can also type in the fault code you are getting below to find a more detailed description.
Search Toyota Tundra Codes
Do you know the fault code already? Enter it in the box below and hit "Search Codes".
Toyota Tundra Recalls
When a car manufacturer detects a problem with a model they put out a recall notice and more often than not offer to fix the problem free of charge.
You can check to see if your Toyota Tundra has any recall notices on our sister site AutoRecalls.co, sorted by model year.
View Toyota Tundra Recalls »
Common Tundra Fault Codes
These are the most common Tundra fault codes that people are searching for.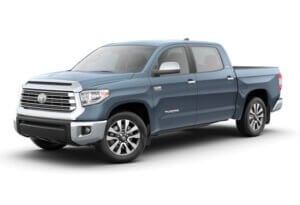 About the Tundra
The Tundra made its debut in 1999. The pickup truck, which is manufactured in and for the American market, has seen three generations since then. The latest of these was released in 2021.
The model has seen a decent amount of acclaim over the years, even being named Motor Trend magazine's Truck of the Year in both 2000 and 2008.
Given that the model is only sold in America, its competition comes solely from other popular pickups sold there. These include the Ford F-150, Chevrolet Silverado, and RAM 1500. It also shares a number of similarities with the Toyota Sequoia.
The most common of these issues is fault code P0441, which represents an issue with the evaporative emissions control (EVAP) system purge flow. Like a number of Toyota models, a faulty purge control valve is one of the most likely causes of this issue. Another simple fix owners have found is replacing the fuel cap.
Another common and relatively mild code is P0418, which indicates an issue with the secondary air injection system circuit. This most commonly affects the 4.7 and 5.7-liter engine models.
Tundra owners have found that a faulty air pump is one of the most common causes of this issue.
Unfortunately, there is another fault code that affects the model which is significantly more serious. Fault code P0420 indicates a problem with the catalytic converter in bank 1 of the engine.
This indicates that the catalytic converter is not performing properly, likely indicating that this expensive component is failing. Luckily, another much cheaper fix is done by replacing the oxygen sensors in the exhaust. Exhaust leaks can also be one of the main causes of the issue.
Because this code can damage the catalytic converter, it should be addressed quickly.