Chevrolet Silverado Fault Codes
---
You can find common Chevrolet Silverado fault codes on this page that when clicked take you to a detailed description.
You can also type in the fault code you are getting below to find a more detailed description.
Search Chevrolet Silverado Codes
Do you know the fault code already? Enter it in the box below and hit "Search Codes".
Chevrolet Silverado Recalls
When a car manufacturer detects a problem with a model they put out a recall notice and more often than not offer to fix the problem free of charge.
You can check to see if your Chevrolet Silverado has any recall notices on our sister site AutoRecalls.co, sorted by model year.
View Chevrolet Silverado Recalls »
Common Silverado Fault Codes
These are the most common Silverado fault codes that people are searching for.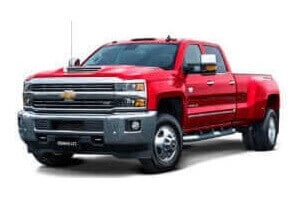 About the Silverado
The Chevrolet Silverado is a series of full-size and heavy-duty pickup trucks that first debuted in 1999. There have been a total of four generations to be released, with the fourth and latest generation hitting the market in 2019.
The series ranges from the smallest 1500 and goes up to the medium-duty 6500 HD.
The Silverado is nearly identical to its corporate cousin, the GMC Sierra, which is considered a rebadged version. It is also often compared to popular models from Ford's F-Series like the F-150 and F-350, the Dodge RAM, Nissan Titan, and Toyota Tundra.
In the two-plus decades that the model has been on the market, one of the most common issues it has faced is P0430. This code indicates that there is an issue with the catalytic converter in the second bank of the exhaust system.
Unlike some models on the market that would not be susceptible to this code because it only affects the second engine bank, nearly every Silverado model has been outfitted with a V-shaped engine, meaning most models can log this code.
This code is usually a sign that the second catalytic converter is failing and needs to be replaced. It is also possible that the oxygen sensors need to be checked and replaced.
P0154 is another fairly common code that the pickup truck has faced. This code represents a malfunction from the first O2 sensor in the second bank of the engine. Of course, a faulty sensor is the most likely culprit.
The Silverado is also somewhat known to suffer from P0300, which indicates that multiple or random misfires have been detected.
This code can be very difficult to solve alone, so it is important owners look for additional fault codes that may relate to the air, fuel, or ignition systems.