Toyota FJ Cruiser Fault Codes
---
You can find common Toyota FJ Cruiser fault codes on this page that when clicked take you to a detailed description.
You can also type in the fault code you are getting below to find a more detailed description.
Search Toyota FJ Cruiser Codes
Do you know the fault code already? Enter it in the box below and hit "Search Codes".
Toyota FJ Cruiser Recalls
When a car manufacturer detects a problem with a model they put out a recall notice and more often than not offer to fix the problem free of charge.
You can check to see if your Toyota FJ Cruiser has any recall notices on our sister site AutoRecalls.co, sorted by model year.
View Toyota FJ Cruiser Recalls »
Common FJ Cruiser Fault Codes
These are the most common FJ Cruiser fault codes that people are searching for.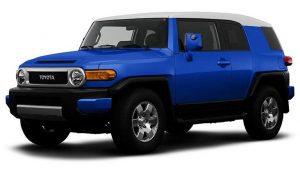 About the FJ Cruiser
The FJ Cruiser is a classic-looking mid-sized sports utility vehicle created by the Japanese motor company, Toyota.
Produced since the year of 2006, the FJ Cruiser started life as a concept car which was shown at the North American International American Show a full 3 years earlier, in 2003.
Externally, the vehicle has a relatively short wheelbase with a solid boxy aesthetic and a front end indicative of the Land Cruiser FJ40.
Toyota has taken several attributes of its previous older models and combined them to create a retro but modern vehicle.
Built specifically with off-road capabilities in mind, the FJ Cruiser has enlarged buttons for people wearing gloves and the insides are made from a water-resistant material to make washing a much easier process.
It is a body-on-frame styling, rather than the traditional ladder-on-frame and uses a more advanced double wishbone suspension.
Fitted with a 4-liter V6 engine for early models, the FJ Cruiser boasts great scores for safety, testing 'Good' for most categories by the Insurance Institute for Highway Safety.
A number of special vehicles were created for specific purposes, like the TRD Special Edition, designed by the Toyota Racing Development team, or the ARB Edition FJ Crawler, sold with a number of premium quality packages.
Where Toyota is a popular company for people considering mid-sized and large trucks, there are other options that compete with the FJ Cruiser, these are the Jeep Wrangler, Kia Telluride, Ford Everest, Isuzu MU-X, Nissan Terra, Land Rover Defender, Mercedes G-Class, Ford Edge, GMC Acadia, Subaru Ascent, Jeep Grand Cherokee, Dodge Durango, Honda Pilot and the VW Atlas.
Some common fault codes found with this vehicle are: