Opel/Vauxhall Crossland Fault Codes
---
You can find common Opel/Vauxhall Crossland fault codes on this page that when clicked take you to a detailed description.
You can also type in the fault code you are getting below to find a more detailed description.
Search Opel/Vauxhall Crossland Codes
Do you know the fault code already? Enter it in the box below and hit "Search Codes".
Opel/Vauxhall Crossland Recalls
When a car manufacturer detects a problem with a model they put out a recall notice and more often than not offer to fix the problem free of charge.
You can check to see if your Opel/Vauxhall Crossland has any recall notices on our sister site AutoRecalls.co, sorted by model year.
View Opel/Vauxhall Crossland Recalls »
Common Crossland Fault Codes
These are the most common Crossland fault codes that people are searching for.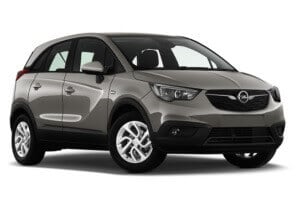 About the Crossland
Opel/Vauxhall first released the Crossland, a subcompact crossover SUV, in 2017 in an attempt to put forward an offering in the increasingly popular crossover market.
While there has only been one generation to hit the market since its release, the model name saw an update, along with a modest facelift in 2021. This is when Opel decided to remove the 'X' suffix.
The 5-door crossover sits in a very competitive market, going up against a number of its French counterparts. Interestingly, the Peugeot 2008, DS 3, and Citroen C4 all share the same PSA PF1 platform as the Crossland, owing to their joint ownership.
It is currently powered by petrol, diesel, and plug-in hybrid technology like most other modern vehicles.
Thankfully, the commonly searched problems with the model are mostly not very serious ones. Fault code P0456, which represents a small leak in the evaporative emissions control (EVAP) system, is just such an issue.
Another such code is P0455. While the previous code indicates a small leak, this code indicates that there is a more significant leak present.
These leaks can be caused by damaged or faulty components in the EVAP system or simply faulty sensors giving off an inaccurate reading.
Issues like these can cause your Crossland to suffer a failed emissions test, resulting fine, so while they are not incredibly serious, it is a good idea to have them fixed when they appear.
Another issue, which is certainly more serious, is P0106. This code indicates that there is a problem in the manifold absolute pressure (MAP) circuit.
This is a crucial component for the onboard computer to control and optimize the air-fuel mixture entering the engine. This can lead to both performance issues and damage to various components.
This means it is important to have this code resolved as soon as possible.