You can find common Peugeot 2008 fault codes on this page that when clicked take you to a detailed description.
You can also type in the fault code you are getting below to find a more detailed description.
Search Peugeot 2008 Codes
Do you know the fault code already? Enter it in the box below and hit "Search Codes".
Peugeot 2008 Recalls
When a car manufacturer detects a problem with a model they put out a recall notice and more often than not offer to fix the problem free of charge.
You can check to see if your Peugeot 2008 has any recall notices on our sister site AutoRecalls.co, sorted by model year.
View Peugeot 2008 Recalls »
Common 2008 Fault Codes
These are the most common 2008 fault codes that people are searching for.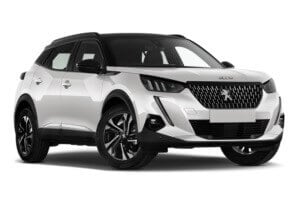 About the 2008
A subcompact crossover SUV, the 2008 was released by the French automaker Peugeot in 2013.
Available still today, the 2008, as the name would suggest, shares many components with the 208 and was first unveiled at the Geneva Motor Show.
Built upon the PSA PF1 Platform, the 2008 also shares its underpinnings with the likes of the Citroen C3, C3 Picasso, Citroen C3 Aircross, C-Elysee, C4 Cactus, Opel Crossland X and the IKCO Tara.
First generations had a number of engines to choose from ranging from 1.2-liter to 1.6-liter in petrol and 1.4-liter or 1.6-liter in diesel; all of which could be mated to either a 5 or 6-speed manual gearbox, or a 4 or 6-speed automatic.
For the next generation, the engine range was streamlined, offering only one of each strain.
Stylistically, these newer vehicles were more angular and were built upon the new Common Modular Platform (designed by the PSA group).
An electric version went on sale shortly after the release of the second generation.
Named the e-2008, these had a 100 kW electric motor and 46.2 kWh battery allowing for a 310 km range from a single charge.
In 2021, the 2008 won 'South African Car of the Year,' and in 2016, the 2008 won the Dakar Rally whilst being driven by Stephane Peterhansel.
Some fault codes common for the 2008 are: