Citroën C3 Picasso Fault Codes
---
You can find common Citroën C3 Picasso fault codes on this page that when clicked take you to a detailed description.
You can also type in the fault code you are getting below to find a more detailed description.
Search Citroën C3 Picasso Codes
Do you know the fault code already? Enter it in the box below and hit "Search Codes".
Citroën C3 Picasso Recalls
When a car manufacturer detects a problem with a model they put out a recall notice and more often than not offer to fix the problem free of charge.
You can check to see if your Citroën C3 Picasso has any recall notices on our sister site AutoRecalls.co, sorted by model year.
View Citroën C3 Picasso Recalls »
Common C3 Picasso Fault Codes
These are the most common C3 Picasso fault codes that people are searching for.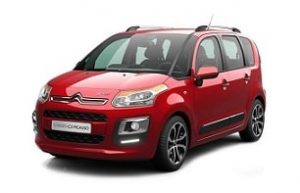 About the C3 Picasso
The C3 Picasso model was introduced in the 2009 model year as the replacement for the Xsara Picasso.
It was built upon the PSA PF1 platform that can also be found under the Peugeot 207, sharing many of the same common faults and fault codes.
This C3 Picasso was a mini MPV like the Opel Meriva – offering the benefits of a people carrier/minivan in a compact size.
It ran up until 2017 when it was replaced by the C3 Aircross – a similar model that bore more "crossover" features that helped it adapt to modern market tastes.
During its 8-year reign, it did get a reputation to be associated with several common fault codes such as the p0598.
The p0598 code signifies an issue with the thermostat for the cooling of the engine (not heating the car's interior).
If this system fails then you may find your engine quickly heating up and potentially damaging components.
Alongside the p0598 error you may find the p0485 at the same time.
That p0485 code is telling you that the fan used to cool the engine has grounded – meaning that it may not be getting the power it needs from the battery.
Then after those cooling issues, the second most common fault code we encounter for the C3 Picasso relates to a knocking in the engine.
Seeing the p1327 code appear on your OBD2 reader means that the ECU has detected a knocking in the third cylinder.
Knocking is associated with something being out of sync with the rest of the engine (leading to shaking or knocking sounds or vibrations).
This could be caused by a variety of things but may actually be down to an issue with the fuel-to-air mixture further up the line.