Citroën C3 Aircross Fault Codes
---
You can find common Citroën C3 Aircross fault codes on this page that when clicked take you to a detailed description.
You can also type in the fault code you are getting below to find a more detailed description.
Search Citroën C3 Aircross Codes
Do you know the fault code already? Enter it in the box below and hit "Search Codes".
Citroën C3 Aircross Recalls
When a car manufacturer detects a problem with a model they put out a recall notice and more often than not offer to fix the problem free of charge.
You can check to see if your Citroën C3 Aircross has any recall notices on our sister site AutoRecalls.co, sorted by model year.
View Citroën C3 Aircross Recalls »
Common C3 Aircross Fault Codes
These are the most common C3 Aircross fault codes that people are searching for.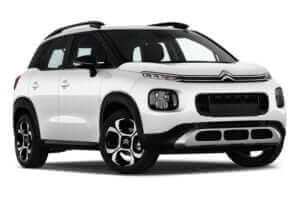 About the C3 Aircross
The C3 Aircross was a sports utility vehicle built by the French automaker Citroen.
A result of the joint venture involving Stellantis and the PSA group, the C3 Aircross was first the Brazilian version of the C3 Picasso, and the second is the more commonly known European C3 Picasso replacement.
Citroen based the C3 Aircross on the first C3 Picasso and sold its first models in 2010.
When compared to the C3 Picasso, the C3 Aircross had higher suspension, mirror covers, roof bars and a spare tire on the rear.
Higher-end models saw a fully leather interior and ABS with come of soft furnishings eco in their design.
2017 saw the C3 Aircross as its own individual model, now classed as a subcompact crossover SUV, the first model was shown in Paris and then again at the Geneva Motor Show.
By using the PSA PF1 Platform, these C3 Aircross' share the underpinnings with the likes of the Peugeot 207, Citroen C3, Citroen C2, Peugeot 107, Citroen DS3, Peugeot 208, 2008, Peugeot 301, Citroen C-Elysee, Opel Crossland X and the IKCO Tara.
Solely for the Chinese Market, Citroen released the C4 Aircross, which was the C3, just with a longer wheelbase, these vehicles only lasted 3 years due to poor sales.
There are some common fault codes associated with this vehicle: