You can find common Peugeot 207 fault codes on this page that when clicked take you to a detailed description.
You can also type in the fault code you are getting below to find a more detailed description.
Search Peugeot 207 Codes
Do you know the fault code already? Enter it in the box below and hit "Search Codes".
Peugeot 207 Recalls
When a car manufacturer detects a problem with a model they put out a recall notice and more often than not offer to fix the problem free of charge.
You can check to see if your Peugeot 207 has any recall notices on our sister site AutoRecalls.co, sorted by model year.
View Peugeot 207 Recalls »
Common 207 Fault Codes
These are the most common 207 fault codes that people are searching for.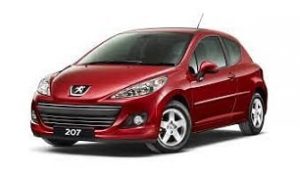 About the 207
A supermini classed car, the 207 was designed and created by the French car manufacturer Peugeot.
First seen at the Geneva Motor Show in 2006, the 207 replaced the boxier 206.
Launching in the UK on 8th June 2006, Peugeot chose the manufacturing plant in Ryton, Coventry for the construction of the car.
Sharing a platform with the Citroen C3, the 207 had three petrol engines available, a 1.4-liter 8v, a 1.6-liter 16v and a 1.4-liter with a higher bhp of 90.
Available as a three or five-door hatchback, a station wagon and a coupe cabriolet, the 207 was also sold as a panel van and again sold in the UK.
Only manual gearboxes were available for the GTI and GT versions, and the car received a facelift three years after its release in 2009. Here, the grill decreased in size and the headlamps changed shape.
Criticism surrounded the 206's replacement, issues were highlighted with the interior design, handling and poor quality of the gearbox. This was a problem because there were so many alternatives that potential customers could choose from, such as the VW Polo, Skoda Fabia, Nissan Micra, Mazda 2 or the Ford Fiesta.
Common fault codes that appear on an ODB2 when plugged into the 207 are: