You can find common Peugeot 206 fault codes on this page that when clicked take you to a detailed description.
You can also type in the fault code you are getting below to find a more detailed description.
Search Peugeot 206 Codes
Do you know the fault code already? Enter it in the box below and hit "Search Codes".
Peugeot 206 Recalls
When a car manufacturer detects a problem with a model they put out a recall notice and more often than not offer to fix the problem free of charge.
You can check to see if your Peugeot 206 has any recall notices on our sister site AutoRecalls.co, sorted by model year.
View Peugeot 206 Recalls »
Common 206 Fault Codes
These are the most common 206 fault codes that people are searching for.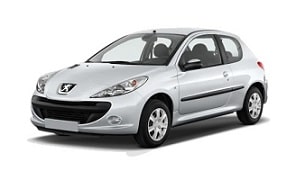 About the 206
The 206 was an incredibly popular little supermini that was designed and created by the French automaker Peugeot.
A successor to the Peugeot 205, the 206 first launched in 2009 for the European market and following in the tradition of other Peugeot models, lasted just one generation.
As the bestselling Peugeot model of all time, the 206 sold in excess of 8 million units and as a result had a plethora of engine variants.
With 9 petrol engines and 4 diesels, customers could choose to add these to a 4-speed automatic or as a 5 or 6-speed manual.
A number of styles joined the line up, with the standard two-door hatchback, a sports wagon, sedan and convertible models sold with varying levels of success.
The coupe cabriolet was one of the most affordable quality convertibles in Europe at the time when the notchback sedan was not quite so successful.
Other special editions were the Grand Tourisme, GTi RC, 206 Escapade, 206 French Dream and the Naza 206 Bestari. The latter replaced the 206 SD and was renamed the 207 for the Malaysian market.
As a fiercely competitive category, potential customers of the 206 had options like the Citroen C3, Opel (Vauxhall) Corsa, Ford Focus, Ford Fiesta or the VW Polo.
Common fault codes for the 206 can be: