You can find common Škoda Scala fault codes on this page that when clicked take you to a detailed description.
You can also type in the fault code you are getting below to find a more detailed description.
Search Škoda Scala Codes
Do you know the fault code already? Enter it in the box below and hit "Search Codes".
Škoda Scala Recalls
When a car manufacturer detects a problem with a model they put out a recall notice and more often than not offer to fix the problem free of charge.
You can check to see if your Škoda Scala has any recall notices on our sister site AutoRecalls.co, sorted by model year.
View Škoda Scala Recalls »
Common Scala Fault Codes
These are the most common Scala fault codes that people are searching for.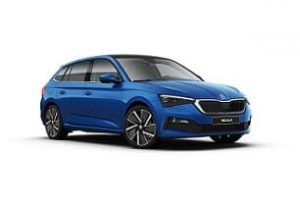 About the Scala
The Scala is a small family car built by the Czech car manufacturer Skoda.
Launched in 2019, the Scala was a little larger than the Fabia and smaller than the Octavia; all of which were built upon the C-Segment hatchback segment; existing models that also share the C-Segment makeup are the Volkswagen Golf, Ford Focus, Mercedes-Benz A-Class, Toyota Corolla, SEAT Leon, BMW 1 Series, Audi A3, Peugeot 308, Mercedes-Benz CLA Class, Volkswagen ID.3, Renault Megane and the Kia Ceed.
After spending four years in development, the Scala was officially unveiled at the Tel Aviv Show in Israel (where it proudly holds the title as the best-selling Brand in Europe).
A longer car, when compared to the Volkswagen Golf, the Scala makes good use of all internal space with special attention paid to the rear passengers and their legroom.
Available in three petrol engine variants, one diesel 1.6-liter engine or one Petrol/CNG (compressed natural gas), these can be twinned with a choice of manual or direct-shift gearboxes.
The Scala is the very first Skoda to be fitted with an internet connection, working in conjunction with a permanent built-in SIM card, this allows for continual 4G connectivity and allows for keyless entry to the vehicle, the driver can open the car with their smart phone.
More technological features include a blind spot monitor, digital instrument cluster, lane keep assist, park assist, adaptive cruise control and crew protect assist.
Upon seeing a check engine warning light, the operator can read some of the following: