You can find common Škoda Yeti fault codes on this page that when clicked take you to a detailed description.
You can also type in the fault code you are getting below to find a more detailed description.
Search Škoda Yeti Codes
Do you know the fault code already? Enter it in the box below and hit "Search Codes".
Škoda Yeti Recalls
When a car manufacturer detects a problem with a model they put out a recall notice and more often than not offer to fix the problem free of charge.
You can check to see if your Škoda Yeti has any recall notices on our sister site AutoRecalls.co, sorted by model year.
View Škoda Yeti Recalls »
Common Yeti Fault Codes
These are the most common Yeti fault codes that people are searching for.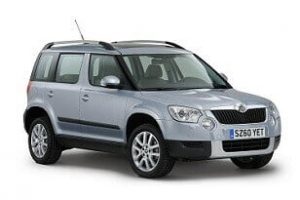 About the Yeti
Built as a compact crossover SUV, the Yeti is created by the Czech car manufacturer Skoda.
Lasting just eight years between 2009 and 2017, the Yeti was first unveiled at the Geneva Motor Show.
This was Skoda's first SUV, care was put into the design and production of the model, efforts that were proved well founded as shortly after its release, the Yeti was voted Top Gears Family Car of the Year.
The original concept Yeti had just one windscreen wiper that traverses horizontally across the windscreen, a feature that did not continue into the production models.
Internally, the Yeti can be manipulated to suit the individual's requirements, with the rear outer seats sliding back and forth once the middle seat has been removed.
Equally, the front passenger seat can be folded to allow for extra cargo.
There were three petrol engines made available, a 1.2-liter, 1.4-liter and a 1.8-liter with two diesels, a 1.6-liter and 2-liter; all of these can be coupled with a five or six-speed automatic or a six or seven-speed automatic transmission.
The Yeti's competition came from the Volkswagen Tiguan, Kia Soul, Subaru XV, Mitsubishi ASX, BMW X1, Honda CR-V and the Toyota RAV4.
The Yeti can register some of these common error codes: