Mercedes Benz CLA Fault Codes
---
You can find common Mercedes Benz CLA fault codes on this page that when clicked take you to a detailed description.
You can also type in the fault code you are getting below to find a more detailed description.
Search Mercedes Benz CLA Codes
Do you know the fault code already? Enter it in the box below and hit "Search Codes".
Mercedes Benz CLA Recalls
When a car manufacturer detects a problem with a model they put out a recall notice and more often than not offer to fix the problem free of charge.
You can check to see if your Mercedes Benz CLA has any recall notices on our sister site AutoRecalls.co, sorted by model year.
View Mercedes Benz CLA Recalls »
Common CLA Fault Codes
These are the most common CLA fault codes that people are searching for.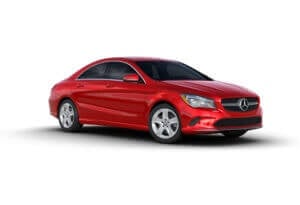 About the CLA
The CLA was first released in 2013 as a series of compact luxury cars. Both a 4-door sedan and a 5-door station wagon, called the Shooting Brake, have been sold.
Like with many of the Mercedes-Benz offerings, it is sold as a performance version as well. This is called the CLA 45 AMG Edition. There have been a number of other variants sold over the years. There have also been two generations to hit the markets since its release.
Competition comes mainly from Mercedes-Benz's main rivals, the Audi TT Coupe and BMW 2 Series. Another similar model is the Volkswagen Arteon.
To provide the desired performance, all CLA models, both diesel and petrol, are outfitted with turbocharger systems.
This is one of the main issues that owners have reported for the model. Fault code P0299 represents an underboost condition from the turbocharger. Loose hoses in the turbocharger system, a faulty boost pressure sensor, and a defective wastegate actuator have all been attributed to being the cause for this issue.
Another fairly common issue for the model is P0301, which represents a misfire from the first cylinder.
Lack of proper maintenance is one of the primary causes for misfires in Mercedes engines. Fouled spark plugs can easily be replaced, fixing the issue though. However, anything that can upset the ideal air-fuel mixture or the ignition source for cylinder one can be the cause of a misfire.
Unfortunately, both of these codes are fairly serious problems. They can cause significant issues when it comes to performance, such as putting the CLA into limp mode. In some cases, the symptoms will be very mild, but it is still best to have these codes resolved as soon as possible to protect the car.