Mercedes Benz SLK-Class (incl. SLC) Fault Codes
---
You can find common Mercedes Benz SLK-Class (incl. SLC) fault codes on this page that when clicked take you to a detailed description.
You can also type in the fault code you are getting below to find a more detailed description.
Search Mercedes Benz SLK-Class (incl. SLC) Codes
Do you know the fault code already? Enter it in the box below and hit "Search Codes".
Mercedes Benz SLK-Class (incl. SLC) Recalls
When a car manufacturer detects a problem with a model they put out a recall notice and more often than not offer to fix the problem free of charge.
You can check to see if your Mercedes Benz SLK-Class (incl. SLC) has any recall notices on our sister site AutoRecalls.co, sorted by model year.
View Mercedes Benz SLK-Class (incl. SLC) Recalls »
Common SLK-Class (incl. SLC) Fault Codes
These are the most common SLK-Class (incl. SLC) fault codes that people are searching for.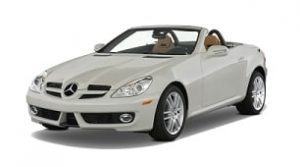 About the SLK-Class (incl. SLC)
The Mercedes-Benz SLK-Class, later changed to the SLC, is a high-performance executive roadster manufactured since 1996. Since its release, there has been a total of three generations to hit the market, with the latest version debuting in 2011.
The model got its name from the German words 'sportlich' (sporty), 'leicht' (lightweight), and 'kurz' (short), but this was changed to conform with the existing Mercdes-Benz C-Class series.
Like with most Mercedes models, this powerful 2-door roadster has faced competition from its German trio counterparts, the Audi TT and BMW Z4.
Having such a powerful engine can mean the SLK can be prone to engine troubles. One of the most common of these is represented by code P2006, which means there is an issue with the intake manifold runner flap being closed.
This can cause the engine to run too rich as there is not enough air in the engine. Misfires, weak performance, and poor fuel economy are usually the most common signs of this issue.
This can be a serious problem in some cases, so it is a good idea to have it checked out urgently.
P0455 is another code that the SLK can suffer from. This code indicates that there is a leak in the evaporative emissions control (EVAP) system.
Of course, the most likely cause of the problem is a leak somewhere in the EVAP system, usually as a result of a faulty component.
While not the most serious of problems, it can cause the car to fail an emissions test.
Another issue that can be serious given the power of the engine is P0128. Unfortunately, this is another problem the SLK can have. This code means that the coolant thermostat is not functioning properly and is operating below temperature.
While it does not mean the engine is overheating, it does indicate that there is an underlying problem with this critical system, so it should be addressed fairly quickly.
Unlike with a lot of Mercedes parts, replacing the thermostat can be cheap and effective in this case.