Mercedes Benz R-Class Fault Codes
---
You can find common Mercedes Benz R-Class fault codes on this page that when clicked take you to a detailed description.
You can also type in the fault code you are getting below to find a more detailed description.
Search Mercedes Benz R-Class Codes
Do you know the fault code already? Enter it in the box below and hit "Search Codes".
Mercedes Benz R-Class Recalls
When a car manufacturer detects a problem with a model they put out a recall notice and more often than not offer to fix the problem free of charge.
You can check to see if your Mercedes Benz R-Class has any recall notices on our sister site AutoRecalls.co, sorted by model year.
View Mercedes Benz R-Class Recalls »
Common R-Class Fault Codes
These are the most common R-Class fault codes that people are searching for.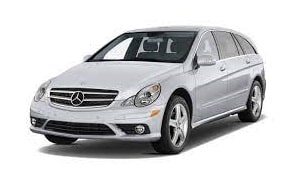 About the R-Class
The R-Class first made its debut in 2005 as a large luxury MPV. The model only saw a single generation since then, with updates coming in 2007 and 2011. It was later retired in 2017 due to declining sales figures.
Interestingly, Mercedes released an incredibly limited performance version called the R 63 AMG 4Matic. Paired with a 6.3 liter V8, this represented one of the most powerful production minivans ever. Obviously, this was a very unique combination, so much so that only 200 units were ever sold globally, making it one of the rarest Mercedes-Benz models ever.
While on the market, competition came from the Volkswagen Caravelle, Honda Odyssey, and Toyota HiAce.
Owing to some shared mechanical systems, the R-Class is subject to some fairly common fault codes that a number of SUVs in the Mercedes lineup are known to face.
The most common of these is P2009, which indicates an issue with the intake manifold runner.
This problem can be notoriously difficult to fix. However, there is a lot of information available on fixing the problem because so many models have suffered from it. Owners have typically found replacing the faulty actuator is a common solution.
Fault code P0128 is another fairly common issue for the model. This code is logged when the coolant is not reaching the desired temperature.
Among the most common fixes for this issue includes replacing a faulty thermostat and checking the coolant system for the correct fluid levels.
Fault code P0455 is another fairly common problem for these models. This code represents a leak in the EVAP system.
One of the most common causes is a loose gas cap, but there can also be actual leaks in the EVAP hoses or components.