Citroën DS 3 Crossback Fault Codes
---
You can find common Citroën DS 3 Crossback fault codes on this page that when clicked take you to a detailed description.
You can also type in the fault code you are getting below to find a more detailed description.
Search Citroën DS 3 Crossback Codes
Do you know the fault code already? Enter it in the box below and hit "Search Codes".
Citroën DS 3 Crossback Recalls
When a car manufacturer detects a problem with a model they put out a recall notice and more often than not offer to fix the problem free of charge.
You can check to see if your Citroën DS 3 Crossback has any recall notices on our sister site AutoRecalls.co, sorted by model year.
View Citroën DS 3 Crossback Recalls »
Common DS 3 Crossback Fault Codes
These are the most common DS 3 Crossback fault codes that people are searching for.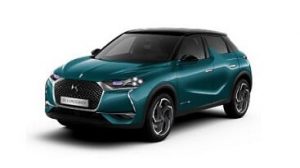 About the DS 3 Crossback
When the DS 3 was first launched in 2009 it was under the Citroën brand.
Then when the French automaker launched its luxury sub-brand DS it moved it over to it in 2018.
As it switched over the model went through a facelift visually as well as the addition of the sporty DS 3 Performance trim for a few years.
In 2018 the model (now under the DS brand) entered its second generation and moved to a newer platform shared with many more manufacturers.
You could find this new "PSA EMP1 platform" under a wide range of models from companies outside of France such as the Opel Corsa and Mokka.
It was originally classed as a supermini like the Ford Fiesta and Renault Clio but under the DS brand, it's now a luxury compact crossover SUV.
From 2020 an all-electric trim was added to the order sheet that was branded as the E-Tense version.
During the years that it has been on sale it has managed to build up a few common fault codes that our visitors are reporting.
The most popular of which is the P0599, which represents a fault in the electric thermostat system but it could be simply caused by a low level of coolant.
Topping up the correct coolant in your DS 3 Crossback (which you can find out about here) should be your first job in identifying the fix for your car.
The second most common fault code for the DS 3 Crossback that we find is P1339 – caused by a misfire in the 3rd cylinder.
If you can feel a wobble coming from the engine when you drive then it should back this fault up.
Some people have reported that this fault code can be triggered by a generic misfiring in multiple cylinders too.
If that is the case then you may have a problem with your fuel pump and/or dirty injectors from contaminants in the fuel.