You can find common Škoda Karoq fault codes on this page that when clicked take you to a detailed description.
You can also type in the fault code you are getting below to find a more detailed description.
Search Škoda Karoq Codes
Do you know the fault code already? Enter it in the box below and hit "Search Codes".
Škoda Karoq Recalls
When a car manufacturer detects a problem with a model they put out a recall notice and more often than not offer to fix the problem free of charge.
You can check to see if your Škoda Karoq has any recall notices on our sister site AutoRecalls.co, sorted by model year.
View Škoda Karoq Recalls »
Common Karoq Fault Codes
These are the most common Karoq fault codes that people are searching for.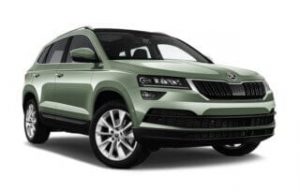 About the Karoq
Built as a compact crossover SUV, the Karoq is a vehicle created by the Czech manufacturer Skoda.
Built upon the Volkswagen Group MQB platform, the Karoq launched in 2017 and takes its name from the Aleutian language which is spoken by the Alaskan residents of Kodiak Island.
The MQB Platform is also used by the Audi A3, Audi Q2, Audi TT, the SEAT Leon, Skoda Octavia, Skoda Superb, VW Arteon, VW Atlas and VW Golf, Golf Sportsvan, Lamando, Passat and Touran.
Released at a special event in Stockholm Sweden, the Karoq replaced the Yeti and is a wholly larger vehicle.
Skoda decided to release the Karoq as its own vehicle rather than the second generation of the Yeti due to the name 'Yeti' having negative connotations in China (a large market).
Available as either a two and four-wheel drive, the Karoq has a MacPherson front axel (a system developed decades ago) and in 2019 became Skoda's best-selling model.
Within the first 11 months, the Karoq achieved 137,700 orders and by 2021 had a revised facelift.
This car's common fault codes could be: