Opel/Vauxhall Grandland X Fault Codes
---
You can find common Opel/Vauxhall Grandland X fault codes on this page that when clicked take you to a detailed description.
You can also type in the fault code you are getting below to find a more detailed description.
Search Opel/Vauxhall Grandland X Codes
Do you know the fault code already? Enter it in the box below and hit "Search Codes".
Opel/Vauxhall Grandland X Recalls
When a car manufacturer detects a problem with a model they put out a recall notice and more often than not offer to fix the problem free of charge.
You can check to see if your Opel/Vauxhall Grandland X has any recall notices on our sister site AutoRecalls.co, sorted by model year.
View Opel/Vauxhall Grandland X Recalls »
Common Grandland X Fault Codes
These are the most common Grandland X fault codes that people are searching for.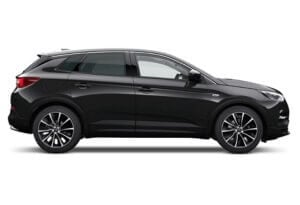 About the Grandland X
Built as a compact crossover sports utility vehicle, the Grandland X was launched in 2017 following an unveiling at the Frankfurt Motor Show by Opel (Vauxhall).
Although sales began in 2017, the vehicle had actually been in production since 2012 as the eventual successor to the popular Zafira.
Constructed using the PSA EMP2 platform (a platform shared with a number of vehicles like the Citroen C4 Picasso, Citroen Grand C4 Picasso, the Peugeot 408 II, Peugeot 308 II, Donfeng Fengshen and the Citroen C6 II), the Grandland X was assembled at the PSA Sochaux Plant in France and the Eisenach factory in Germany.
The Grandland X was designed by Uwe Mueller and had a front engine with the ability to choose from either a front-wheel drive, or an all-wheel drive.
Available with either a 6-speed manual or an 8-speed automatic transmission, the Grandland X is registered with General Motors rather than the PSA Group.
Although not considered the best car in its category, the Grandland X does have a number of pleasing attributes, with review sites applauding its equipment and internal space.
Some common fault codes for the Opel Grandland X are: