Hyundai Trajet Fault Codes
---
You can find common Hyundai Trajet fault codes on this page that when clicked take you to a detailed description.
You can also type in the fault code you are getting below to find a more detailed description.
Search Hyundai Trajet Codes
Do you know the fault code already? Enter it in the box below and hit "Search Codes".
Hyundai Trajet Recalls
When a car manufacturer detects a problem with a model they put out a recall notice and more often than not offer to fix the problem free of charge.
You can check to see if your Hyundai Trajet has any recall notices on our sister site AutoRecalls.co, sorted by model year.
View Hyundai Trajet Recalls »
Common Trajet Fault Codes
These are the most common Trajet fault codes that people are searching for.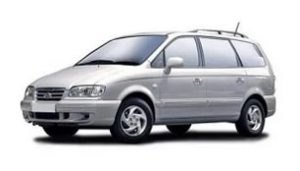 About the Trajet
Manufactured by the South Korean motor company Hyundai, the Trajet was a multi-purpose vehicle capable of seating up to seven passengers.
Lasting just 9 years, the Trajet reportedly takes its name from the French word meaning to 'journey,' that is, to travel from one point to another.
Sharing a platform with the Sonata and the Santa Fe, the Trajet had a high roof and long wheelbase with hinged doors rather than sliding (a style favored by a number of other minivans).
With three rows of seats, the front two could turn 180 degrees and rear seating could be turned into tables allowing for easy car picnicking for families, or to be used as a makeshift office.
Standard features included electric windows, a CD unit, sliding second-row seats, air conditioning, seat belt pre-tensioners, power steering with ABS and side airbags.
With an update taking place in 2004, the SE model received a DVD player, tinted windows, reversing parking sensors and a satellite navigation system.
A number of engine options were made available, three petrol variants, two 2-liter and a 2.7-liter, one petrol/LPG 2.7-liter and just one diesel, a 2-liter.
All of these could be mated to either a 5-speed manual transmission or a 4-speed automatic.
For customers looking for alternatives to the Hyundai Trajet, there were several minivans available such as the Ford Galaxy, SEAT Alhambra, Vauxhall Zafira, Toyota Previa and the Kia Carens.
The Trajet can register some usual fault codes, these are: