Land Rover Freelander Fault Codes
---
You can find common Land Rover Freelander fault codes on this page that when clicked take you to a detailed description.
You can also type in the fault code you are getting below to find a more detailed description.
Search Land Rover Freelander Codes
Do you know the fault code already? Enter it in the box below and hit "Search Codes".
Land Rover Freelander Recalls
When a car manufacturer detects a problem with a model they put out a recall notice and more often than not offer to fix the problem free of charge.
You can check to see if your Land Rover Freelander has any recall notices on our sister site AutoRecalls.co, sorted by model year.
View Land Rover Freelander Recalls »
Common Freelander Fault Codes
These are the most common Freelander fault codes that people are searching for.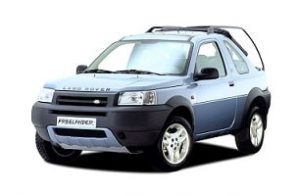 About the Freelander
The Freelander model was released by Land Rover in 1997 and remained on the market until 2015. During this time, two versions were released, with the Freelander 2 making its debut in 2007.
The model drew a large amount of inspiration from a similar model released under British Aerospace in 1988.
A few years after its discontinuation, Land Rover replaced both the 2-door and 5-door versions with the Range Rover Evoque and Land Rover Discovery Sport respectively.
Sitting in the luxury compact crossover SUV class put the model up against competition like the Audi Q5, BMW X3, and Volvo XC60.
Land Rover has a proven track record for mechanical problems in many of their models. One of the most commonly searched for these with the Freelander is P006A, which means that the signal coming from the mass airflow (MAF) sensor or manifold absolute pressure (MAP) does not match what the powertrain control module (PCM) is expecting.
This can be caused by a variety of issues, but faulty sensors can often be the cause.
Another fairly common issue for the model is P0046, which represents an issue with the turbocharger system. Thankfully, only a select few engine options were outfitted with these systems.
One of the primary causes for this is a faulty turbocharger actuator.
Another fairly common problem is also a very serious one. P0606 is logged when the PCM has likely failed. This can be a huge problem that requires expert help immediately.
Land Rover electronics are notoriously prone to failure and the PCM is no exception. Unfortunately, the PCM is a vital component in keeping any car running properly and safely.
All three of these commonly searched problems are serious. They all have the ability to cripple the Freelander through decreased performance and even limp mode.