Hyundai Bayon Fault Codes
---
You can find common Hyundai Bayon fault codes on this page that when clicked take you to a detailed description.
You can also type in the fault code you are getting below to find a more detailed description.
Search Hyundai Bayon Codes
Do you know the fault code already? Enter it in the box below and hit "Search Codes".
Hyundai Bayon Recalls
When a car manufacturer detects a problem with a model they put out a recall notice and more often than not offer to fix the problem free of charge.
You can check to see if your Hyundai Bayon has any recall notices on our sister site AutoRecalls.co, sorted by model year.
View Hyundai Bayon Recalls »
Common Bayon Fault Codes
These are the most common Bayon fault codes that people are searching for.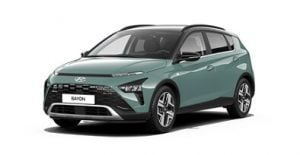 About the Bayon
The Bayon model first hit the markets in 2021. Of course, this means that only a single generation has been released for the subcompact crossover SUV so far.
The model was designed for the European market, which can be seen from its namesake. The name was given to the model after the French city of Bayonne.
As a crossover, the Bayon takes a large amount of inspiration from the third generation of the Hyundai i20. This puts it at the bottom of the Hyundai crossover lineup. Similar models from outside the Korean manufacturer include the Ford Puma, Nissan Juke, and Citroen C3 Aircross.
Despite being a new model, there have been some fault codes to commonly come up. The most common of these is P0106, which indicates an issue with the signal from the MAP sensor.
The first step in fixing this issue is to check the sensor itself for any problems. Owners have found this is the most likely cause. Other causes can typically be found in the circuit.
The MAP sensor is somewhat prone to issues reportedly for the Bayon as the next most common code is P0108, which represents a high voltage signal from the sensor.
Again, checking the sensor itself is one of the most successful ways to treat this issue.
Another code that is reported relatively often for the Bayon is P0269. This code indicates that there is a balance issue with the third-cylinder fuel injector. Unfortunately, it can be fairly difficult to pinpoint the cause of this issue.
Hyundai owners have noted that checking the fuel injector for faults should be the first step, but thereafter, the list of potential causes is extensive.