You can find common Suzuki Swift fault codes on this page that when clicked take you to a detailed description.
You can also type in the fault code you are getting below to find a more detailed description.
Search Suzuki Swift Codes
Do you know the fault code already? Enter it in the box below and hit "Search Codes".
Suzuki Swift Recalls
When a car manufacturer detects a problem with a model they put out a recall notice and more often than not offer to fix the problem free of charge.
You can check to see if your Suzuki Swift has any recall notices on our sister site AutoRecalls.co, sorted by model year.
View Suzuki Swift Recalls »
Common Swift Fault Codes
These are the most common Swift fault codes that people are searching for.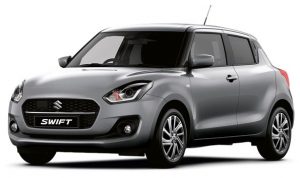 About the Swift
A supermini car created by the Japanese car manufacturer Suzuki, the Swift began sales in 1983 with the first models lasting a decade (the first versions didn't carry the Swift badge).
Originally a boxy car with a long nose and squared-off headlights the Swift could be purchased in four body configurations; a two-door convertible, a five-door hatchback, a four-door sedan and a three-door hatchback.
Intended as a replacement for the Suzuki Cultus, the Swift had either a five-speed manual transmission or a four-speed automatic gearbox.
There were some outlandish color options, like a light lilac or a bright canary yellow.
The first Swift models to carry the moniker were launched in 2004 and debuted at the Paris motor show.
Designed primarily for the European market, first generations received four stars in the Euro NCAP tests and enjoyed a successful marketing campaign headed up by Christiano Ronaldo.
Available with either a 1.3-liter or 1.5-liter petrol engine, the Swift was assembled in a number of factories worldwide.
The second generation launched in 2010 and there was a small change in the overall appearance, with a slightly more curved aesthetic, at this time, the Swift S-Concept was released.
As a crowded market, the city car segment has numerous offerings such as the SEAT Ibiza, Ford Fiesta, Mini Hatchback, VW Polo, Nissan Micra, Vauxhall Corsa, Honda Jazz and the Skoda Fabia.
Although the Swift is known as a reliable car it can still sometimes break down and these fault codes are the most common for this model: