Hyundai Genesis (G80) Fault Codes
---
You can find common Hyundai Genesis (G80) fault codes on this page that when clicked take you to a detailed description.
You can also type in the fault code you are getting below to find a more detailed description.
Search Hyundai Genesis (G80) Codes
Do you know the fault code already? Enter it in the box below and hit "Search Codes".
Hyundai Genesis (G80) Recalls
When a car manufacturer detects a problem with a model they put out a recall notice and more often than not offer to fix the problem free of charge.
You can check to see if your Hyundai Genesis (G80) has any recall notices on our sister site AutoRecalls.co, sorted by model year.
View Hyundai Genesis (G80) Recalls »
Common Genesis (G80) Fault Codes
These are the most common Genesis (G80) fault codes that people are searching for.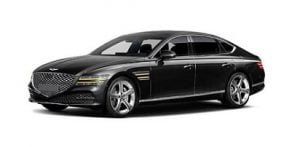 About the Genesis (G80)
Hyundai first debuted the Genesis model in 2008. The model saw two generations under the Hyundai brand before starting the Genesis roster in 2016. This is when the Korean manufacturer rebanded the model as the G80.
Since 2016, there have been an additional two generations to hit the markets, with the latest being released in 2020.
Like all of the offerings from Genesis, this 4-door sedan sits in the executive class because of its luxury features and premium technology.
Adding to the G80 series, Genesis released the Electrified G80 in 2021. This fully-electric version marks the first step of the model towards hybrid and electric powertrains.
Competition from other executive sedans includes the Audi A6 and Mercedes-Benz E-Class.
Unfortunately, for G80 owners, some of the most common problems for the model can be fairly severe ones.
The G80 has been reported to suffer from P0597 most commonly. This code represents an issue with the thermostat circuit. This can be a serious problem as issues with the thermostat can cause overheating of the engine.
Thankfully, thermostat problems can be fairly easily resolved typically.
Another problem the G80 has been known to suffer over the years is P0068, which can be very serious. This code indicates an issue with the signals from the mass airflow (MAF) sensor, manifold air pressure (MAP) sensor, and the throttle position sensor (TPS).
The signal from these sensors is constantly monitored to ensure they correlate with one another. This code means that they are not. Unlike the first code, this can be fairly difficult to diagnose and solve and often requires expert help.
Another issue that has been reported is P0171, which indicates that the engine is running too lean. Having too much air in the air-fuel mixture can cause a host of performance issues – crippling the high-end performance offered by the G80.
Again, it can be hard to pinpoint the cause, making it hard to diagnose and fix.