You can find common Dodge Dart fault codes on this page that when clicked take you to a detailed description.
You can also type in the fault code you are getting below to find a more detailed description.
Search Dodge Dart Codes
Do you know the fault code already? Enter it in the box below and hit "Search Codes".
Dodge Dart Recalls
When a car manufacturer detects a problem with a model they put out a recall notice and more often than not offer to fix the problem free of charge.
You can check to see if your Dodge Dart has any recall notices on our sister site AutoRecalls.co, sorted by model year.
View Dodge Dart Recalls »
Common Dart Fault Codes
These are the most common Dart fault codes that people are searching for.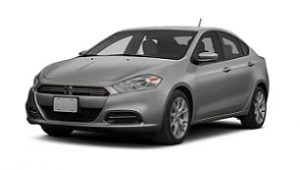 About the Dart
The modern version of the Dodge Dart first made its debut in 2012 and shared its name with a classic car of the same nameplate. The latest version, given the designation DF, remained on the market for four years, being discontinued in 2016.
The model has also been sold as the Fiat Viaggio and Ottimo in the Chinese market. The difference between these two models is that the former is the standard sedan layout, while the latter is the hatchback variant.
During its time on the market, competition for the model came from the Chevrolet Cruze, Ford Focus, and Toyota Corolla.
One of the most common problems that the Dart faced is P0300, which can be a very serious code. This code indicates that there have been multiple, random misfires detected from the engine.
Owners have reported that fouled spark plugs can be one of the main causes, particularly in cars that have been neglected in terms of maintenance. Other potential causes will likely be found upstream of the engine in the fuel and/or air intake systems.
The next most common code for the Dart is P0520. This code indicates that there is a problem with the oil pressure sensor.
This can be a simple issue as most owners have reported that replacing a faulty sensor is the solution. Of course, it is important to determine that it is the sensor itself that is the problem, rather than something else like electrical faults in the sensor circuit.
It is also important to ensure there is the correct level of clean oil in the system.