You can find common Dodge Dakota fault codes on this page that when clicked take you to a detailed description.
You can also type in the fault code you are getting below to find a more detailed description.
Search Dodge Dakota Codes
Do you know the fault code already? Enter it in the box below and hit "Search Codes".
Dodge Dakota Recalls
When a car manufacturer detects a problem with a model they put out a recall notice and more often than not offer to fix the problem free of charge.
You can check to see if your Dodge Dakota has any recall notices on our sister site AutoRecalls.co, sorted by model year.
View Dodge Dakota Recalls »
Common Dakota Fault Codes
These are the most common Dakota fault codes that people are searching for.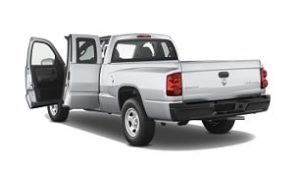 About the Dakota
The Dodge Dakota was first released under the Chrysler Group in 1986. It then remained on the market until its discontinuation in 2011. During its run on the market, Dodge released three generations, with the final making its debut in 2005.
The model was also sold as the RAM Dakota in its final years due to the emergence of RAM Trucks.
As a mid-size pickup, it was a bit larger than its main rival, the Ford Ranger. However, it is still smaller than the full-size pickup offerings from the notable American manufacturers like the Dodge Ram, Ford F-150, and Chevy Silverado.
The Dakota was known to suffer a number of EVAP system issues. The most common of these was fault code P0455, which indicates that there is a significant leak detected from the EVAP system.
Another common EVAP system fault code is P0422. This code means that there is a small leak coming from the system.
In both cases, the first step is always to check that the gas cap is fastened properly. However, there can also be faults in the various components in the EVAP system that are allowing a leak to occur. It is also possible that the cap needs to be replaced with a factory part.
Fault code P0420 is another code that the Dakota is known to suffer from. This code indicates that the catalytic converter in the first bank of the exhaust is likely failing.
This code typically affects older models due to their susceptibility to wear and tear. Any leaks in the exhaust can cause this code to be logged. In addition to this, a catalytic converter that has reached its service life and has not been replaced will cause this code to be logged.