Chrysler Pacifica Fault Codes
---
You can find common Chrysler Pacifica fault codes on this page that when clicked take you to a detailed description.
You can also type in the fault code you are getting below to find a more detailed description.
If you are searching for the OBD2 port location (to plug your reader into) you can find an explanation and visual aid on this page too.
Search Chrysler Pacifica Codes
Do you know the fault code already? Enter it in the box below and hit "Search Codes".
OBD2 Port Location
Looking for the plug-in point for your OBD2 code reader in the Chrysler Pacifica?
Chrysler Pacifica Recalls
When a car manufacturer detects a problem with a model they put out a recall notice and more often than not offer to fix the problem free of charge.
You can check to see if your Chrysler Pacifica has any recall notices on our sister site AutoRecalls.co, sorted by model year.
View Chrysler Pacifica Recalls »
Common Pacifica Fault Codes
These are the most common Pacifica fault codes that people are searching for.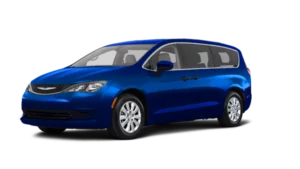 About the Pacifica
The Pacifica is a nameplate used by the American manufacturer for a series of different vehicles. The nameplate first made its debut as a minivan in 1999.
Of the various models, there has been a minivan and a mid-size crossover SUV. Chrysler returned to its original form in 2017 when the minivan version was reintroduced as a replacement for the Chrysler Town & Country.
Only a single generation of the new minivan has been released since then. The crossover variant was sold for a period between 2004 and 2008.
Competition for the latest variant includes the Kia Carnival, Honda Odyssey, and Toyota Sienna.
One of the most common issues that the minivan has suffered from is P0456. This code indicates that there is a small leak in the EVAP system.
Owners have reported success in replacing the purge valve as it is a simple and cost-effective solution. These components are also somewhat prone to allowing leaks. However, any other component in the system can allow for leaks.
Fault code P0420 is another code that the Pacifica is known to suffer from. This code indicates that the catalytic converter is not functioning properly.
Of course, a faulty converter is one of the main culprits when it comes to this issue. Other problems can include exhaust leaks upstream of the converter. Faulty oxygen sensors can also be a problem.
Another common issue is fault code P0700, which indicates a transmission control malfunction. This can be a result of a sensor problem. However, electrical issues like incorrect grounds can also lead to this issue.
This code is notorious for being difficult for pinpointing the cause of, though.