Chevrolet Tahoe Fault Codes
---
You can find common Chevrolet Tahoe fault codes on this page that when clicked take you to a detailed description.
You can also type in the fault code you are getting below to find a more detailed description.
Search Chevrolet Tahoe Codes
Do you know the fault code already? Enter it in the box below and hit "Search Codes".
Chevrolet Tahoe Recalls
When a car manufacturer detects a problem with a model they put out a recall notice and more often than not offer to fix the problem free of charge.
You can check to see if your Chevrolet Tahoe has any recall notices on our sister site AutoRecalls.co, sorted by model year.
View Chevrolet Tahoe Recalls »
Common Tahoe Fault Codes
These are the most common Tahoe fault codes that people are searching for.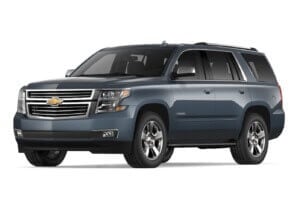 About the Tahoe
The Chevy Tahoe and its corporate cousin, the GMC Yukon, first made their debut in 1999. Since then, there have been five generations of the full-size SUVs. The fifth and latest generation first hit the markets in 2021.
It is mainly sold in the North American market but has also been sold in certain parts of Asia, the Middle East, and South America over the years.
Of course, the Tahoe does face competition from its rebadged counterpart, the GMC Yukon. Other competition comes from the likes of the Dodge Durango, Ford Expedition, and Kia Telluride.
Fault code P0430 indicates that there is a problem with the catalytic converter in the second bank of the engine. Typically this would only affect certain models in a series, but every Tahoe has been fitted with a V8 engine. This means every model can have this code logged.
One of the most commonly reported causes of this problem is a failing catalytic converter.
Another issue that Tahoe owners have reported fairly often is P0030. This code indicates that there is a resistance issue with the oxygen sensor upstream of the catalytic converter in the first bank of the engine.
This code is typically caused by a failing oxygen sensor. This can be checked by switching the upstream sensors between the first and second banks. If the code changes to that side of the exhaust, it is a clear indication that the sensor is faulty.
Similarly, fault code P0135 also indicates that the same O2 sensor is malfunctioning. If these codes are logged together, which has been reported, it is very likely that the sensor needs to be replaced.