Renault Fluence Fault Codes
---
You can find common Renault Fluence fault codes on this page that when clicked take you to a detailed description.
You can also type in the fault code you are getting below to find a more detailed description.
Search Renault Fluence Codes
Do you know the fault code already? Enter it in the box below and hit "Search Codes".
Renault Fluence Recalls
When a car manufacturer detects a problem with a model they put out a recall notice and more often than not offer to fix the problem free of charge.
You can check to see if your Renault Fluence has any recall notices on our sister site AutoRecalls.co, sorted by model year.
View Renault Fluence Recalls »
Common Fluence Fault Codes
These are the most common Fluence fault codes that people are searching for.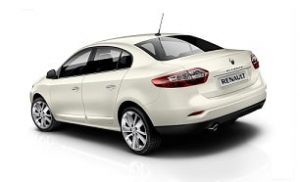 About the Fluence
The Fluence first hit the European market in 2009. It then remained available until its discontinuation in 2020.
Renault announced in 2016 that the model would be replaced by the Renault Megan Sedan IV.
Competition for the model typically came from models like the Ford Focus, Peugeot 308, and Skoda Octavia.
The Fluence was commonly known to suffer misfires. In fact, the two most common problems for the model were related to misfires. The most common of these was P0300. This code indicates that there are multiple random misfires being detected.
This code can be very difficult to pinpoint the cause of. It is often caused by faulty ignition coil packs, but the list of potential causes is extensive. It is important to look for additional fault codes that can help pinpoint the cause.
Interestingly, P0302 is another common fault code. This indicates that there is a fairly consistent misfire from the second cylinder.
In this case, attention needs to be given to the second cylinder in particular. Some of the most common causes are failing fuel injectors and ignition coil packs.
It is very possible that there are other misfires being logged alongside P0302 if P0300 has been logged.
Another common issue, P0380, only affected models fitted with the single diesel engine. This code indicates that the glow plug heater circuit is malfunctioning.
Again, this can only affect models with a diesel engine as petrol engines do not have glow plugs.
This code can often be caused by a faulty fuse in the glow plug circuit. Replacing this component is one of the best first steps in addressing the issue.
It is also possible that a code like P0380 is what is causing P0300 to be logged.