Mitsubishi Eclipse Cross Fault Codes
---
You can find common Mitsubishi Eclipse Cross fault codes on this page that when clicked take you to a detailed description.
You can also type in the fault code you are getting below to find a more detailed description.
Search Mitsubishi Eclipse Cross Codes
Do you know the fault code already? Enter it in the box below and hit "Search Codes".
Mitsubishi Eclipse Cross Recalls
When a car manufacturer detects a problem with a model they put out a recall notice and more often than not offer to fix the problem free of charge.
You can check to see if your Mitsubishi Eclipse Cross has any recall notices on our sister site AutoRecalls.co, sorted by model year.
View Mitsubishi Eclipse Cross Recalls »
Common Eclipse Cross Fault Codes
These are the most common Eclipse Cross fault codes that people are searching for.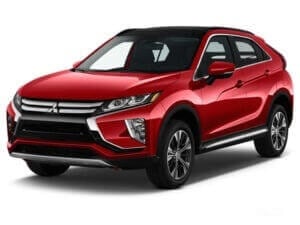 About the Eclipse Cross
The compact crossover Eclipse Cross first made its debut in 2017. The release of the model was in a clear response to the surging popularity of the crossover SUV class. There has only been a single generation to be released currently, but there is also a hybrid version called the Eclipse Cross PHEV.
Despite sharing its namesake with an older sport model from the Japanese company, the model shares very little in common. In fact, it can easily be considered a brand-new model, which is a fairly unique trait for the crossover class.
Notable rivals in the packed class include the Nissan Qashqai and Mazda CX-5, as well as the newer version of the Kia Sportage.
Most new models will come with some teething pains. Unfortunately for the Eclipse Cross, the most common of these are quite serious issues.
The most common of these issues is P0011, which indicates that the intake camshaft is over-advanced in its timing. For Mitsubishi models, this is caused by a fault in their variable valve timing (VVT) system.
This code is a very serious one because it poses a great risk to the various components in the engine. It can also decrease driveability massively. Because of the complexity in the VVT system, all components like solenoids need to be checked to resolve the code.
Another serious camshaft issue that the Eclipse Cross is known to suffer is P0340, which indicates that there is an issue with the camshaft position sensor.
In some cases, both of these codes will be logged together, which can be a clear indication that the camshaft position sensor needs replacing. This can also be caused by electrical issues in the sensor's circuit.