You can find common Mazda CX-5 fault codes on this page that when clicked take you to a detailed description.
You can also type in the fault code you are getting below to find a more detailed description.
Search Mazda CX-5 Codes
Do you know the fault code already? Enter it in the box below and hit "Search Codes".
Mazda CX-5 Recalls
When a car manufacturer detects a problem with a model they put out a recall notice and more often than not offer to fix the problem free of charge.
You can check to see if your Mazda CX-5 has any recall notices on our sister site AutoRecalls.co, sorted by model year.
View Mazda CX-5 Recalls »
Common CX-5 Fault Codes
These are the most common CX-5 fault codes that people are searching for.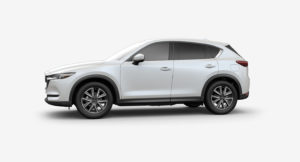 About the CX-5
The CX-5 first entered the compact crossover SUV market in 2012. There have only been two generations released since then, with the second making its debut in 2017.
It became one of the best-selling models under the Mazda badge, particularly in the United Kingdom where it accounts for over 25% of Mazda sales in the region.
The CX-5 is typically found between the CX-50 and CX-60 in the Mazda lineup in terms of sizing.
Competition from outside manufacturers includes the Volkswagen Tiguan and the Nissan Qashqai, but there are plenty of others because of the increasing popularity of the class.
Turbochargers have become a very common component in modern engines. Unfortunately, they can be fairly problematic due to their complexity.
Mazda also does not have a great track record with these systems. This is shown by fault codes P2262 and P0299 being the two most common problems for the CX-5.
The first code indicates that no boost pressure can be detected from the turbocharger. The second indicates that the boost from the turbocharger is too low. These two codes are both notorious for the model and are very serious.
Owners have reported that quality control issues with a batch of wastegates and both turbines can be the primary cause of this common issue. In some cases, a new turbocharger is required.
Another very common problem for the CX-5 is P0471, which can also add to the previous codes. This code indicates that the exhaust pressure sensor is malfunctioning.
Owners have reported that these sensors are prone to failing, so much so that Mazda even added a warranty extension for them in certain regions. Checking this sensor should be the first step in addressing this fault code.