You can find common Jeep Compass fault codes on this page that when clicked take you to a detailed description.
You can also type in the fault code you are getting below to find a more detailed description.
Search Jeep Compass Codes
Do you know the fault code already? Enter it in the box below and hit "Search Codes".
Jeep Compass Recalls
When a car manufacturer detects a problem with a model they put out a recall notice and more often than not offer to fix the problem free of charge.
You can check to see if your Jeep Compass has any recall notices on our sister site AutoRecalls.co, sorted by model year.
View Jeep Compass Recalls »
Common Compass Fault Codes
These are the most common Compass fault codes that people are searching for.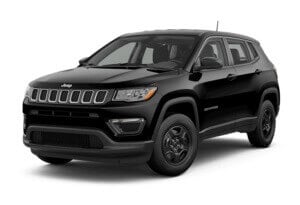 About the Compass
The Jeep Compass first made its debut 2006 as a compact crossover SUV. Since its release, there have been only two generations to hit the markets, with the latest being released in 2018.
The model was originally unveiled as a concept at the 2002 North American International Auto Show.
In terms of Jeep's SUV lineup, it is situated between the Jeep Renegade and the larger Jeep Cherokee.
Being in the same class as the Nissan Qashqai, Kia Sportage, and Volkswagen Tiguan means that the Compass has faced some pretty stiff competition over the years.
One of the most common issues that the model has faced is P0700. This code indicates that there is an issue with the transmission control system. Of course, this means that only models with automatic transmissions can suffer from this issue.
It is important to look for other codes related to the transmission to help pinpoint the cause. This does require more advanced code readers.
Another issue that the Compass is known for is one that affects a huge number of General Motors offerings. Fault code P0456 indicates that there is a small leak coming from the EVAP system.
This is almost always caused by a loose or faulty fuel cap, but it is also possible that there is an actual leak coming from the EVAP system. It is important to check the various components for signs of damage or faults.
Fault code P0420 is another common issue for the Compass, particularly older models with high mileage.
This code indicates that the catalytic converter is likely failing. This can be caused by a catalytic converter that has exceeded its mileage, but other possible causes include exhaust leaks upstream of the converter or faulty oxygen sensors.