Alfa Romeo 159 Fault Codes
---
You can find common Alfa Romeo 159 fault codes on this page that when clicked take you to a detailed description.
You can also type in the fault code you are getting below to find a more detailed description.
Search Alfa Romeo 159 Codes
Do you know the fault code already? Enter it in the box below and hit "Search Codes".
Alfa Romeo 159 Recalls
When a car manufacturer detects a problem with a model they put out a recall notice and more often than not offer to fix the problem free of charge.
You can check to see if your Alfa Romeo 159 has any recall notices on our sister site AutoRecalls.co, sorted by model year.
View Alfa Romeo 159 Recalls »
Common 159 Fault Codes
These are the most common 159 fault codes that people are searching for.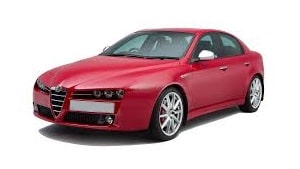 About the 159
A compact executive vehicle, the 159 was created by Alfa Romeo in 2004 and was designed by Giogetto Giugiaro (a designer made famous for cars like the Lotus Espirit, Daewoo Lanos, Saab 600, Maserati 5000 GT and the SEAT Ibiza).
The Italian car company offered the 159 in a variety of petrol and diesel engines and installed the classic 'V' onto the front grille.
The Alfa Romeo 159 can suffer a number of problems common to the vehicle, one of the most notable triggers code P0091. P0091 essentially means that the powertrain module has discovered a fuel pressure that registers way below the specified range.  There could be a number of causes, it is generally recommended that a mechanic be consulted to determine the precise issue, but a few problems may arise from the fuel pump, a troubled PCM or simply that the fuel tank is running on low.  There are a number of symptoms that will help in discovering the error code, one can expect to experience a stuttered start upon switching on the ignition, poor fuel economy or just a low output of power.
Another common fault code for the 159 is P0010, a code attached to the engine's mechanical variable timing. To regulate emissions, cars are equipped with a system that can up the engine valve lift when required. When this code shows, it signals a problem with a variation in timing between the bank 1 camshaft and crankshaft. Several things can cause this fault code, be it engine oil sludge or wiring damage but the result is a poorly idling engine, low fuel economy and an ultimate failing of the emissions test.
P0094 shows when a small leak is detected in the fuel system; this can result in decreased fuel efficiency, an unusual fuel smell and the check engine light flashing. Perhaps the most severe result of this fault is combustion resulting in a fire outbreak.