Alfa Romeo 156 Fault Codes
---
You can find common Alfa Romeo 156 fault codes on this page that when clicked take you to a detailed description.
You can also type in the fault code you are getting below to find a more detailed description.
Search Alfa Romeo 156 Codes
Do you know the fault code already? Enter it in the box below and hit "Search Codes".
Alfa Romeo 156 Recalls
When a car manufacturer detects a problem with a model they put out a recall notice and more often than not offer to fix the problem free of charge.
You can check to see if your Alfa Romeo 156 has any recall notices on our sister site AutoRecalls.co, sorted by model year.
View Alfa Romeo 156 Recalls »
Common 156 Fault Codes
These are the most common 156 fault codes that people are searching for.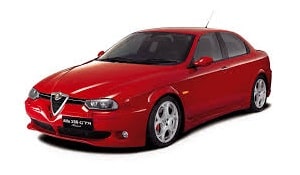 About the 156
Alfa Romeo's compact executive 156 first made its debut in 1996. It was then on the market for just over a decade, until the discontinuation of its nameplate in 2007.
There was only a single generation to hit the market during its time, but Alfa Romeo released a number of different layouts for the model. These consisted of a 4-door saloon, a 5-door station wagon, and a 5-door crossover SUV. The latter were sold as the Sportwagon and Crosswagon respectively.
The model was replaced by the 159 in 2005, despite being on sale for two years after this.
It was offered with a selection of various petrol and turbocharged diesel powertrains.
Unfortunately for diesel owners, the most common fault code for the 156 is P0256, which represents an issue with the turbocharger sensor circuit. This was because all of the petrol options were naturally aspirated.
Any issues with the turbocharger can be both serious and costly. If the sensor is unable to perform properly, the powertrain control module (PCM) will not be able to properly regulate the amount of boost from the turbocharger.
This can put the 156 into limp mode, making it very important to have the issue resolved immediately.
Another code that reportedly affected the model relatively commonly is code P0704. This code represents a malfunction with the clutch switch. Thankfully, this means that any models fitted with an automatic transmission did not suffer this code.
This is also a fairly serious code as it can prevent the car from shifting properly and even starting at all, as well as putting it in limp mode like with the previous code.
One of the main causes for this issue is that the clutch pedal itself does not return all the way to its off position. This can be due to a defective linkage, which can be replaced. A faulty clutch switch sensor is also fairly common for the 156.